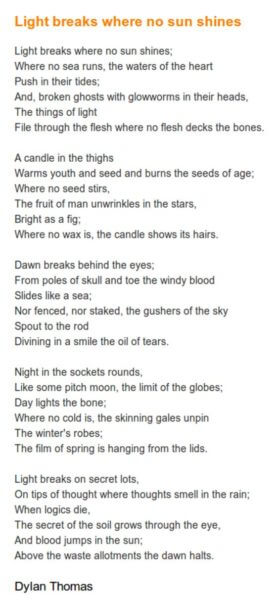 The long shadow Easter casts on our culture is light in darkness rather than darkness in light. The poem off to the right here is lit by that shadow. So much of the poem's language reduces humanity to mere biology – our ghosts are merely the bioluminescence of the worms feeding off our corpses, rebirth is perhaps nothing more than dirty fertilization, whether of plants or of people – but all is framed to subvert that reduction. The poem shows a light beyond nature and nature's endless cycling, light from a dawn that remains fixed for all time: the Easter dawn. Really, it's impossible to put what the poem is saying into words any better than the words of the poem itself. Not all restatement is verbal, though.
Setting a poem for singers will literally restate the words, as they are sung. But the music written for the words is, even when the words are removed, its own retelling. Plenty of us are amateur poets, but not all of us write poems worth saying. Fortunately for amateur poets with some training in music, our own play-acting as poets can help us retell other, much better, poets' poems in musical form. The following is one such half-finished retelling, which, being half-finished, with sketchiness and seams still evident, gives a behind-the-scenes look at how it's done:
Because the poem is strophic, the music has a modified strophic form, too, returning to the opening material for each verse, with a final recapitulation as a coda. All verses are text-painted variations on an underlying theme. The flickering of "A candle" is represented by extra motion in the bass (well, contralto – this is for women's chorus). A sourer, "burning" sonority illustrates what "burns" old age. And so on.
Intervals of a second are so often used to create the effect of sonic light that the usage is cliche. In pre-impressionist music, "sonic light" seconds typically occur as suspensions that resolve into consonant intervals. We often hear unresolved seconds in more modern works as incomplete suspensions, which create a glowing anticipation that, despite not being sated, won't noxiously frustrate the listener if handled right. The final sonority of this setting is one such unresolved suspension: if the suspension resolved, the dawn the poem describes would not halt, but progress. As cliched as the final sonority is, it's a carefully-chosen cliche, matching the meaning of the words:

In fact, the entire setting is little more than musical cliches chosen to reflect the poem's words. If the setting as a whole does not sound cliched, it's only because the cliches were chosen appropriately. (My worry, of course, is that instead of creating an appropriate expression of the poem, I've created a string of cliches no more fitting than the Folger's Coffee commercial Debussy should have never embarrassed himself by writing.)
The poem is not overtly religious in any way. Setting such a poem is not writing liturgical music. My setting does aim, however, to reveal the liturgical character of these secular words. Before my husband knew which poem I was setting, he called the music I was writing "life-affirming music", which is as it should be: the poem speaks indelicately of death in order to describe a life not destroyed by death; to describe the darkness of the grave (perhaps even the darkness of hell itself), a darkness the sun cannot touch, invaded by light anyhow, in eternal dawn. As George Herbert put it,

A few final notes: The "allotments" of the poem are rented garden plots, and, metaphorically, graves. Setting the work for women's chorus means I can, at least in theory, record myself singing each part, then combine parts electronically, meaning once I'm finished fleshing out this synthesized sketch, I should be able to use technology to convey what the voices I hear in my head as I read the poem (yes, these are the voices I hear in my head – hey, they could be worse!) sound like, words and all. Figuring out how to record myself is its own mind-boggling project, though. Right now, I'm just grateful that synthesized sounds of composing software are considerably less cheesy than they used to be!
For @trink, who didn't badger me into writing this, and for @titustechera, who did.