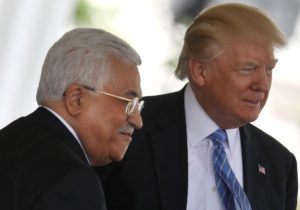 Secretary of State Rex Tillerson informed senators that the Palestinian Authority will no longer pay terrorists and their families for attacking Israelis. He made the comments Tuesday at a Senate Foreign Relations Committee hearing.
"They have changed that policy and their intent is to cease the payments to the families of those who have committed murder or violence against others," Tillerson said. He said that the Trump administration made it clear that the PA's policy "is simply not acceptable to us."
Tillerson and Trump discussed the issue with PA President Mahmoud Abbas during meetings in Washington and Bethlehem. "The President raised it, and I had a bilateral meeting with [Abbas] later and I told him — you absolutely have to stop this," Tillerson said.
The PA has paid $1.12 billion to terrorists and their families over the past four years.
Promises made by Abbas are difficult to trust, but apparently terrorists are already feeling the pinch.
Scores of former Palestinian prisoners freed by Israel and living in the Gaza Strip said on Sunday their stipends from the Western-backed Palestinian Authority have been suspended in an apparent bid to appease Israel and the United States.

A spokesman for Palestinian prisoners said that 277 freed prisoners in the Gaza Strip, most of whom are aligned with the Islamist Hamas group that runs the coastal enclave, were surprised to find their May stipends had not been paid….

Zaid Al-Kilani, a former prisoner from Hamas who was serving a life sentence before he was freed in a prisoner swap for Israeli soldier Gilad Shalit in 2011 said:

"Abu Mazen (Abbas) is punishing freed prisoners by suspending the salaries they and their families rely on…We believe the Palestinian Authority has succumbed to American and Israeli pressure," he said.
The State Department will have to keep the pressure on the PA to continue honoring this commitment. But if this new policy remains in force, it is a big win for the Netanyahu and Trump administrations.