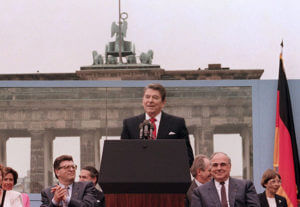 "General Secretary Gorbachev, if you seek peace, if you seek prosperity for the Soviet Union and Eastern Europe, if you seek liberalization, come here to this gate. Mr. Gorbachev, open this gate. Mr. Gorbachev, tear down this wall!"
Ronald Reagan said those words near Berlin's Brandenburg Gate 30 years ago today. And they were written by Ricochet co-founder Peter Robinson. To commemorate the occasion, Tunku Varadarajan interviewed our fearless leader for Politico. Below is an excerpt, but read the whole thing:
[T]he Berlin Wall speech was unprecedented; a departure from the cautious diplomacy the State Department preferred in its dealings with Moscow.

What instructions was he given? None, Robinson says. He was simply thrown in at the deep end. "My guidance from senior staff on the speech was, 'Audience of about 10,000. Length: 20 to 25 minutes. Subject: foreign policy. Period.' It was up to me to figure out what Reagan ought to say beyond that."

Robinson, 30 at the time, had graduated from Oxford not that long ago with a second B.A. in "PPE" — Politics, Philosophy and Economics — the portmanteau degree of the aspirational gentleman.

The callow speechwriter "flew to Berlin to do research and got nowhere with the ranking American diplomat, who was full of things Reagan shouldn't say." The embassy was clear it didn't want any "commie-bashing."

Inspiration struck one evening at a dinner party among Berliners, where a woman told him, with a passion he can still recall: "If this man Gorbachev is serious about glasnost and perestroika, he can prove it by coming here and getting rid of this wall."

"Boom. I put that in my notebook. I knew immediately that I had something. Because I knew Reagan would have responded to that woman's message. I had Reagan in my head. He would have loved that. Simple, dignified, but very powerful."
You can watch the speech here:
.