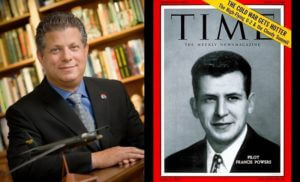 On May 1, 1960, 1,300 miles into Soviet airspace an American U-2 spy plane was flying at 70,000 feet, supposedly out of range of Soviet missiles. But the CIA's U-2 pilot Francis Gary Powers, Gary's Father, felt the thump of an exploding Soviet missile and was shot down over Russia. After being tried for espionage he served nearly two years in a Soviet prison suddenly becoming a key figure in the Cold War's most infamous spy case that ultimately ended up with a prisoner exchange with the KGB spy Soviet Colonel Rudolph Abel.
Fifty-seven years later books, documentaries, and movies are still being written including Steven Spielberg's 2016's Academy Award winning Bridge of Spies, starring Tom Hanks where Gary was a consultant and played a CIA agent. In 1996 Gary Powers Jr. founded the Cold War Museum outside Washington DC and lectured across the globe on the U-2 Incident, the need to preserve Cold War history, and honor Cold War veterans. Gary has written for the Virginia Military Institute (VMI), the National War College and appears regularly on the History Channel, Discovery Channel, and A&E.
Look for Francis Gary Powers. Jr.'s upcoming book Letters From a Soviet Prison. For information on getting an advance copy of his new book or speaking inquiries contact Gary at [email protected] or GaryPowers.com.
.