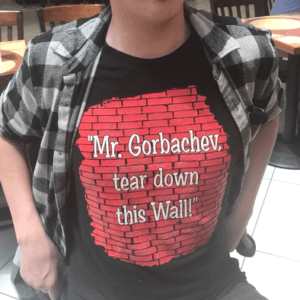 Took in lunch with The Boss and Xerox at the local mall today when a young man and his mother sat down at the next table. He had on the most extraordinary tee shirt.
"Young man," I said, "may I ask you where you got that shirt?" "We had them printed up for German Club at my high school," he replied
Thirty years on and in today's political climate, there's a group of teenagers from Louisville* (OH) High School that embraces the message of freedom delivered long ago by President Reagan in West Berlin.
You find both hope and Peter Robinson in the damnedest places.
*Louisville (pronounced Lewis-ville) is in eastern Stark County in northeast Ohio and has a population just north of 9,000 souls. Go, Leopards!