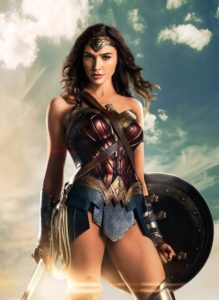 A Brooklyn movie theater recently scheduled a special screening of Wonder Woman open only to women. Cinema/dining chain Alamo Drafthouse said on their website, "Apologies, gentlemen, but we're embracing our girl power and saying 'No Guys Allowed' for several special shows at the Alamo Downtown Brooklyn. And when we say 'Women (and people who identify as women) only,' we mean it."
Movie fan (and my Conservatarians podcast partner-in-crime) Stephen Miller decided he wanted to see a new superhero flick, so he bought a ticket online. Upon sharing this rather mundane act, the Internet exploded, as is its wont.
I hope this story ends with a lifetime ban from Alamo theaters. https://t.co/JqBMJGvVLG

— BenDavid Grabinski (@bdgrabinski) May 27, 2017
*tannoy* can Stephen Miller's mommy please come to the sandpit he has soiled himself for attention https://t.co/hv865Rfnxx

— David Lewis (@davidclewis) May 27, 2017
Yes but you are also barging into a space you've been asked not to enter, and doing it for lulz. This is a rapist's mentality. https://t.co/38Ql0Lg5hE

— Jordan Hoffman (@jhoffman) May 27, 2017
Of course, there were thousands more entertaining tweets, but their ubiquitous profanity violates Ricochet's Code of Conduct. To each attack, Miller stressed he has no interest in making a scene; he just wants to sit down and watch Wonder Woman.
Of course, his calmness created even more outrage. A.V. Club writer William Hughes wrote the first of sure to be many think-pieces on this calumny:
As Miller has delighted in telling people irritated by his decision—in that "I am speaking calmly, so you must be the [expletive]" tone so beloved by internet trolls—there's nothing illegal about purchasing a ticket to a screening. That argument does, though, gloss over the fact that, while barging into a space you've been asked to stay out of just because that request made you feel briefly tiny and weak doesn't make you a criminal, it does make you an insecure piece of [expletive]."
Alamo Drafthouse is in a bit of a pickle here. New York City law strictly prohibits them from discriminating by gender:
Hello mentions https://t.co/VxvkxVVezE pic.twitter.com/okkAZ6zjyU

— Stephen Miller (@redsteeze) May 27, 2017
In fact, New York City prohibits even advertising women-only events, meaning that Alamo is already in violation of the law.
@redsteeze Better to cite the statute itself https://t.co/FKi6QBiuS5 note that the ad already is a violation of the law pic.twitter.com/ahefjj5Ity

— (((Aaron Worthing))) (@AaronWorthing) May 27, 2017
After years of progressives demanding that businesses bake cakes and open bathrooms, it's cathartic to see them reverse their position when it offends their consciences. Miller is offering them a minor, even friendly, clinic on the brave new world they have created.
And I'm sure he'll provide a thorough review of the screening when he returns to our podcast.