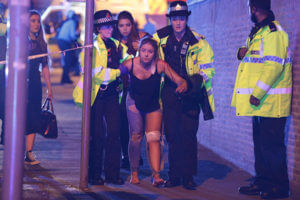 Again we see a horrific act of Islamic terrorism, this time at a music concert in Manchester, England. And again, the media tells us and to a large degree, we tell ourselves the same lies to avoid facing the truth about what we face.
1. The ideology isn't responsible.
Inevitably we are told that the person who did this is insane and that it has nothing to do with religion or ideology. This is true to some degree since anyone who would blow themselves up in a crowd of innocent people is by any reasonable measure insane. There are, however, lots of insane, evil, violent and sociopathic people in the world. Most of them, however, do not blow themselves up in crowded concert halls. Ideology is what makes ordinary murderers and criminals into monsters. Lenin was a third-rate intellectual, Hitler a failed artist and crank war veteran, Stalin a common street thug and so forth. Ideology is what gives insane or evil people a rationalization and reason to become mass murdering monsters. So, no the ideology is responsible. Had it not been for radical Islam, the Manchester bomber would have been just another maladjusted and perhaps violent person. He likely wouldn't have lived a good life and would have done harm, but he wouldn't have done this.
2. Terrorism is not a threat to our way of life if we just ignore it.
One of the dumbest lies we tell ourselves after a terrorist attack is "what are your chances?" Well, your chances are pretty small. But to think that makes terrorism just something we can live with and the solution to it to "keep calm and carry on" is to both misunderstand human nature and the purpose of terrorism. Yes, your chances of dying in a terrorist attack if you live in the UK are vanishingly small. They do however increase if you are doing the wrong thing or in the wrong place. If you happened to be in Manchester last weekend, your chances were greater. If you happened to be in Manchester attending an Ariana Grande concert, your chances were pretty good. By targeting certain activities and things, terrorists create the incentive for people to stop doing those things. No one wants to risk their lives to attend a concert. So blow up a few concerts and people suddenly decide to avoid them. And after you have enforced your will on the public with one behavior, you move onto another like a snake constricting on its prey.
You can see this already. Twenty years ago, no one would have thought anything of drawing a picture of Muhammad. Today, no newspaper in America would print such a picture. In France, Judaism in many places is no longer practiced in public but is restricted to enclosed and armed compounds. Amsterdam is decidedly less gay and decadent than it was even five years ago. In America, no comedy show dare satirize Muslims or the Islamic religion. You can pretend that is because of political correctness but the political correctness is the result of fear. No comedian or sarcastic atheist wants to risk death for their act. But hey what are the odds it will happen to you?
3. Law enforcement can deal with Islamic terrorism.
Law enforcement is based on two principles that make it totally ineffective in responding to Islamic terrorism. First, law enforcement is reactive. Law enforcement doesn't arrest people for crimes they might commit. It arrests people after they commit a crime or engage in an attempt or take concrete steps in a conspiracy. Second, law enforcement, since it can't generally act to prevent a crime, depends upon being able to deter crime to be effective. Law enforcement rarely if ever stops a determined criminal from committing a crime. But that is a limited problem because its actions deter people from becoming criminals in the first place.
The assumptions that underlie any just law enforcement system, make a law enforcement approach to Islamic terrorism nothing more than showing up to count and clean up the bodies after the attack. We can tolerate law enforcement's inability to stop a determined criminal because the stakes of ordinary crime are generally small. Even the worst mass murdering criminal will kill a handful of people. A single terrorist attack, however, can kill dozens or even hundreds or thousands. So the cost of not acting is much larger. More importantly, since Islamic terrorists want to die in the attack, there is no way to deter them. So law enforcement can't prevent terrorism because its greatest weapon to prevent crime, deterrence, is ineffective.
Time and again Islamic terrorists are known to police and do everything but announce on Facebook and Twitter their intention to become terrorists. The public then understandably blames the attack on law enforcement because it failed to do anything. This, however, is not fair to law enforcement and fails to recognize the fundamental limitations of law enforcement described above. Law enforcement can't do anything until the person actually does something and by then it's usually too late to prevent the crime. Unless they get lucky and catch the person in that little window of time between when they take concrete steps to engage in an attack and when they attack occurs, law enforcement is powerless. There are hundreds of people running around America and the UK saying and doing the same things the Manchester bomber said. And only some of them will ever act on it. Short of rounding them all up, something law enforcement is not allowed to do, there is no way for law enforcement to stop them.
4. An armed populace will stop this.
An armed populace is a good thing for a lot of reasons. Stopping terrorism sadly is not one of them. Yes, an armed civilian can stop the occasional madman shooting people and turn a mass shooting into a single one. But armed civilians are not going to stop a dump truck running down a crowded sidewalk or stop someone from blowing themselves up.
Even an armed population runs into the same problem law enforcement runs into; the ineffectiveness of deterrence against Islamic terrorists. The point of being armed is to not to have to use the weapon. I don't carry a gun into a rough neighborhood hoping to get into a gun fight. I carry one hoping the threat of using it keeps me from having to get into any fight at all. The gun is effective because it deters people from attacking me. Islamic terrorists, however, want to die and can't be deterred. Moreover, the terrorist's action will always beat my reaction. So unless I just shoot everyone I think might be a terrorist out of an abundance of caution, the chances are the terrorist determined to murder me will do so before I ever have a chance to defend myself.
5. Terrorism has nothing to do with ordinary Muslims.
This is one of the biggest lies we tell ourselves. Most Muslims are not terrorists, which is true, so the fact that some of them are has nothing to do with the ones who are not. The problem with this logic is that it ignores reality. Some number of Muslims in any nation will radicalize and become terrorists. It is impossible to tell which ones will do so but it is inevitable some will. So the more Muslims you have in your country, the more problems you will have with terrorism. Slovakia and Poland have very few Muslims and no Islamic terrorism. France, Sweden, Germany, and the UK all have significant Muslim populations and terrorism. With Muslims come terrorism. That doesn't mean every Muslim is a terrorist or supports terrorism. But some do and there is no way to determine which will and which won't. There is no magic "vetting" process that tells you which person will live a peaceful and productive life and which will become a terrorist. Indeed, many terrorists have been educated and came from good families. The leader of the 911 plot was an engineer. The terrorist in San Bernardino had a good job with the County.
6. We can fight terrorism and still stay true to our values.
Of all the lies we tell ourselves, this is the worst one. The people who tell it live in this fantasy world where good always triumphs if it just stays true to its values. Sadly, the real world isn't like that. In the real world evil, by virtue of it being evil, isn't defeated by playing by the rules. Playing by the rules and living by your values makes you a martyr. So your choices are, become a martyr to your values, bow to evil's demands, or do whatever is necessary to win and ask God for forgiveness later.
History teaches us this lesson over and over again. Was it consistent with American values to carpet bomb Germany killing over a million civilians? Was it consistent with our values fire bomb Japan killing millions and drop two atomic bombs vaporizing two cities and leaving the survivors with generational effects of radiation? I don't think so. If you went back to 1935 and told Americans that in ten years they will have bombed half the world, killed millions of civilians, men women and children and unleashed a new super weapon that threatens man's very existence, they would have thought you mad. America would never do such things. Of course, it did do those things and more, because the evil it was fighting gave it no other choice. The same people who look back on World War II as some idealized "good war" think that we can now turn around and defeat an enemy willing to blow themselves up among a group of teenage girls by turning the lights off at the Eiffel Tower and making sure every Islamic terrorist gets his full day in court.
We have somehow convinced ourselves that we can survive in this world without getting our hands dirty. That we will never be required to resort to extreme measures to ensure our survival. This is most certainly a lie and really the worst lie we tell ourselves.
The choices we face
The choices Europe faces today are stark. They can either engage in acts of collective punishment, up to and including mass deportations and strict controls on the nature of Islam that is allowed to be practiced or they can face a dark future of terrorism and the slow erosion of their way of life. There are no easy solutions or solutions that don't involve ugly actions and consequences.
America does not yet face these choices. Our Muslim population is too small and our country and population too large to force us to make the kinds of choices the nations of Europe are being forced to make. If, however, we continue to allow mass immigration and allow the America Muslim population to reach a critical mass, we will face the same choices Europe is facing now. That is not something people want to hear. It is much easier to tell ourselves lies about how we can keep calm and carry on and it will all go away if we just are understanding enough. Sadly, the longer we cling to these illusions the worse our choices will be when reality finally forces us to give up these illusions.