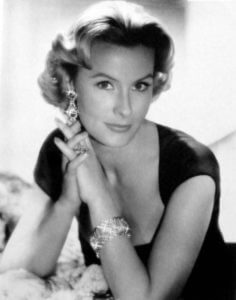 She was a cool blonde, a socialite and she wanted to be a star. But she was not Grace Kelly.
She was born Nedenia Marjorie Hutton, youngest daughter of Post cereal heiress Marjorie Merriweather Post and the only child of stockbroker EF Hutton. She studied acting at the American Academy of Dramatic Arts in New York and as so not to capitalize on her parents she took her brother-in-law's suggestion and changed her name to Dina Merrill, the latter picked from another famous stockbroker, Charles Merrill of Merrill-Lynch.
She went out and paid her dues in summer stock while she studied at AADA. She sewed costumes, painted scenery and played bit parts. She made her Broadway debut in 1945 but eventually bowed to family pressure and quit the stage, marrying her first husband Stanley M. Rumbough, Jr. A son of privilege himself, Rumbough was from the Colgate half of Colgate-Palmolive.
In the late 1950s Merrill received an invitation to return to acting on Dick Powell's television show. Hollywood soon followed and she made her feature film debut in the Hepburn-Tracy comedy Desk Set, as one of a trio of researchers at a television network whose jobs are threatened by the rise of the computer.
Her agent tried to market her as the next Grace Kelly but she was never a star. What she became was a working actor making four to five appearances on television and in the movies every year through the late 1990s.
After her divorce from Rumbough in 1966, she entered into a 20-year marriage to fellow actor Cliff Robertson and then actor and movie producer Ted Hartley. She lately suffered from dementia and hadn't been seen on screen since 2009 when she made an uncredited appearance in the Michael Douglas film, Beyond a Reasonable Doubt.
She passed on Monday at age 93.