As one often is, I found myself inspired by @peterrobinson's latest post – in this case, a post on beauty products which may or may not have been shed by cows. Specifically, I was inspired to look up beauty products shed by other animals, such as snail slime and nightingale droppings. Well, it is difficult for a gal to look these things up without being bombarded by other supposedly female-friendly stories, on love and fashion and the like. To go in reverse order, let me start with the snail shaming:
Love is tough. Even tougher if you're a snail born with the wrong chirality. Poor Jeremy was a left-swirling snail. Maybe that doesn't sound so bad, for a snail. But he was a left-swirling snail born into a right-swirling snail's world. Snails are hermaphrodites, which sounds pretty flexible, but they can't mate with themselves and a pair of them do have to both swirl the same way in order to mate. Scientists wanting to breed Jeremy to study his (zir?) kind found Jeremy another left-swirler, Lefty, to mate with. The two had only begun flirting when they were forced to hibernate together in the fridge, which sounds like a big step – imagine being forced to move in with someone just because the two of you had been caught kissing! After this first scientific violation of gastropod sexual autonomy, stuff just kinda snowballed from there, leading to what's certainly the most adorable use of "cucked" I've ever seen:
At some point, a third left-swirling snail was introduced to the fridge. Poor Jeremy woke up to find himself (zirself?) not part of a couple but a poly triad he never asked to be a part of, and soon after that, relegated to the status of "cucked virgin snail". This is snail-shaming on multiple levels – really, it's the scientists who should be ashamed!
We move onto dress-shaming. Israeli Minister of Culture, Miri Regev, has been shamed for wearing a "provocative" dress to the 2017 Cannes Film Festival. Given what else celebrities wear (or don't) to film festivals, you might wonder what a floor-length, mid-sleeved dress would have to be made of in order to be "provocative". Cellophane?
No, the dress is perfectly opaque. There's just an illustration of Jerusalem along the hem to mark the 50th anniversary of Jerusalem's reunification. This is allegedly "colonialism". So she is being shamed for it.
Finally, we come to body shaming. Or rather to the fact that the Telegraph, despite its reputation as the "Torygraph", seems to believe that women are absurdly easy to body-shame. Their list of "The 10 worst body-shaming and sexist adverts you're likely to see" is remarkably tame. Half simply feature a variety of comely, airbrushed ladies, as if that's how ladies should look – hardly unusual in the advertising world. Some of the ads are clearly intended to be humorous. None approach how shaming women can be to one another in even casual conversation. Well, except one ad, which isn't so much shaming as just so crass and awkward it's hard to know what the advertisers were thinking. This one: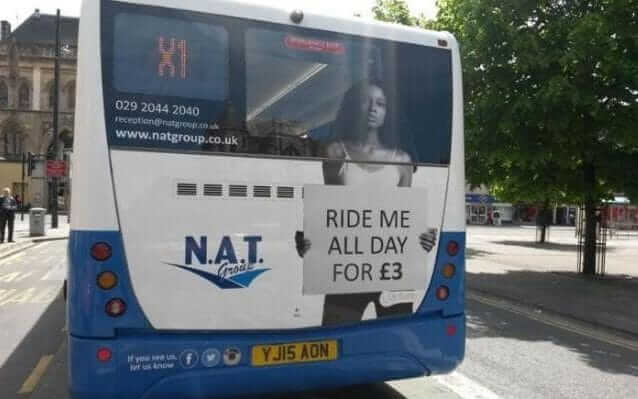 I think the problem here is the ad is slightly confusing. It's so hard to avoid thinking of some poor prostitute desperately advertising her low, low rates that the ad could have easily rolled out of eyeshot before you'd seen it long enough to register it must be the bus talking, not a woman reduced to selling her body for the measly rate of three pounds a day.
On the whole, I think I'm glad I don't usually read news aimed at women. Though I realize my beauty regimen could probably use updating, so if Jeremy is still lonely…
Written for @rightangles.