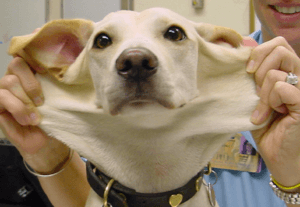 Ah, collagen. The most abundant protein in animals. Great for cooking into rich sauces – and glue (hence the name). It gives structure to mammals' extracellular space. Your skin, tendons, ligaments, blood vessels, mucous membranes, cartilage, bones, and teeth all depend on collagen for strength. When our collagen lets us down, we can expect trouble.
Several diseases, from rheumatoid arthritis to scurvy, are connective-tissue diseases. Several attack our abundant collagen specifically. Sometimes, though, collagen weakens not because it's under attack, but because it never formed right to begin with. Several genes have been identified as causing Ehlers-Danlos Syndrome (EDS), congenitally weakened cartilage, and several genes remain to be discovered. The worst types of EDS are super-weird, and super-scary. Your silly-putty skin could be so loose and stretchy that it's obvious from birth you'd be a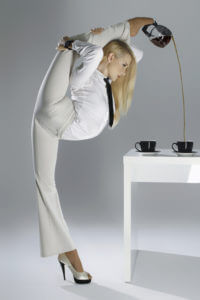 freak-show star, pulling your neck skin over your face for strangers' amusement. Or maybe your joints dislocate so easily you'd join the circus as a contortionist, disarticulating yourself for cold, hard cash. Or maybe EDS causes your organs to explode, far less marketable but still super-scary. Many of us, if we've heard of EDS at all, have more reason to think "circus freak" than "subtle."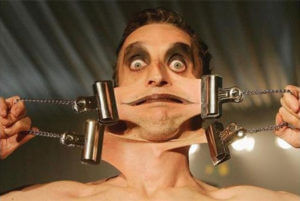 But there are milder manifestations of EDS, too, manifestations much easier to miss, though still often crippling when not caught in time. May is "winning" month here on Ricochet. May is also EDS awareness month – yes, I'm mentioning an awareness month non-sarcastically. How dare I! Bad conservative! (May is also migraine and asthma-and-allergies awareness month – worse conservative!) EDS is such a rare syndrome, it might seem particularly moronic for anyone to suggest that ordinary Americans "be aware" of it in any capacity. But EDS in its less florid presentations is also routinely mis- and under-diagnosed, and, when EDS is not discovered early, it can lead to permanent, crippling injury – injury which often would have been prevented simply by knowing the EDS was there.
Some kids grow up noticing their skin is a little weird, but think nothing of it at the time. So, your skin's a little loose, a little saggy, your scars don't fade like other kids' do – big deal: show me where there's a right to perfect skin. And maybe you're double-jointed,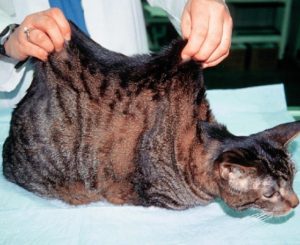 but no so extremely so that contortionism seems like a viable career path. Perfectly ordinary people vary quite a bit in flexibility – again, no big deal, right? And if a kid mentions pain in those naturally flexible joints, what is he likely to hear? "You must've slept on it wrong!" (Every single flippin' night, apparently.) "It's growing pains – they'll go away once you're all grown up!" (Then once he's grown, it flips to, "Maybe you're just getting old a little early!") What's clear, though, to any sensible, tough-minded person is that your range of motion is far too wide for anything to be seriously wrong, so just hang in there and tough it out – don't be a snowflake. 'Cuz snowflakes are the worst, amirite?
It was only here on Ricochet that I heard, instead, from @vicrylcontessa, "Have you ever been tested for EDS?" No, I hadn't been. "That's the circus-freak disease," I thought. "Super-rare and super-serious. Sure, stuff's been bugging me a very long time now, but why on earth would I ever even think it was that?"
But you don't mess with the Contessa. Like many nurses, she doesn't suffer whiners gladly: if she suspects you might have a reason to whine, it's time to listen. It took some sleuthing for me to find an EDS diagnostician in my region who was only booked months, not years, in advance; then several months for Judgment Day to arrive. And yep … it was EDS. All this time. Hypermobility type, which is fortunately the mildest type, but caught late enough to have made quite a difference to my life.
There's no treatment for it other than what you're supposed to do already: keep strain off your joints by staying slim and doing exercises to promote functional muscle use, eat right, get enough sleep, use palliative medicine as needed but please don't chicken out and go overboard, and maybe see a shrink if pain or disability start driving you nuts. The especially tough-minded, skeptical conservatives among us could be forgiven for asking, then, if the only treatment is what you should be doing already, what the hell are the benefits of knowing you have it? I mean, aside from the socially-corrosive "benefit" of getting to claim that science proves you really are a special snowflake – of getting to claim not only victim status, but rather exotic victim status at that!
But knowing matters. Even when you don't aspire to snowflake status, knowing matters:
---
There's growing awareness in the medical community that hypermobility (unusually flexible joints) can be a problem, no matter what the cause. It's typical to rely on the natural stiffness of our connective tissue for joint stability, so that our muscles don't have to do all the work. The more mobile your joints are, the more your muscles have to work to compensate. Which is OK if you know that's what your muscles have to do. It's less OK when you don't know, when what you keep following is the standard, intuitive advice: If something's stiff, stretch it! Still stiff? Have you tried stretching it more? Still stiff? Moar stretching!!! – All of which handily preserves or increases hypermobility while not addressing the real cause of the stiffness: the dysfunctional muscle use it's especially hard for the hypermobile to avoid. Physical therapists are generally good at recognizing – and explaining – that strengthening, not stretching, is sometimes what's needed to combat stiffness, but even physical therapists can only do so much when no one really knows what the overarching problem is.
That's the most sobering realization:
If I never just happened to get to know Contessa here on Ricochet, I could just as easily still not know EDS was even a possibility. Even with all the wonders of modern technology and righteous, time-tested conservative morality at our disposal, it's still possible to suffer and be truly clueless as to why. Moreover, it's unfortunately not unreasonable for other conservatives to assume, if that's what happening to you, that you must've done something to deserve it.
---
Conservatives are typically against two things (well, against two things among many): against the medicalization of everything and against giving people the easy out of claiming special victim status rather than overcoming their problems by making better choices. Furthermore, the more science and technology make it possible to fix problems, the more reasonable it becomes to assume that, if someone in an advanced nation has a problem, the reason it remains unsolved is not lack of knowledge or lack of ability, but lack of will. Being against these two things puts modern conservatives – especially younger conservatives (the elderly, after all, have earned the right to gripe) – who suffer inexplicably in a bit of a bind:
If these youngsters are lucky, their suffering can be fixed by some unknown combination of different choices, a combination which they might blindly stumble into if they always strive to keep making "better choices" and never give up hope. But the supply of choices you maybe should have made is inexhaustible. No matter how unchosen the problem might be, as long as it's a problem not easily known and accepted, there are conservatives out there who'll second-guess, who'll point out that you can't be sure your own bad choices aren't to blame – and you'd better agree with their second-guessing if you don't want to be a "special snowflake!" Thus does the pressure to prove that you're not a snowflake paradoxically lead to increased pressure to medicalize suffering, increased pressure to add to the ever-proliferating "special snowflake" clinical labels for whatever's ailing us, along with increased pressure to "raise awareness" for these labels:
Absent compelling evidence to the contrary, if we're the good skeptical misanthropes many conservatives pride themselves in being, we tend to attribute others' misery and failure to their choices, not their circumstances. And what counts as compelling evidence?
Cold, hard, scientific fact, for one. A mealy-mouthed label like "fibromyalgia" might merely be medicalized malingering, right? "You can put my collagen under a microscope and see that it's physically, dysfunctionally different from typical human collagen," on the other hand, has the ring of cold, objective truth (never mind that describing a physical difference, no matter how blatant, as "dysfunctional" is still a subjective opinion). A label that serves up its proof on a microscope slide sates conservative skepticism in a way the mellifluous excuse, "It's fibromyalgia!" never could. And yet … in order to get to the point where some clinician even thinks to put your tissues under a microscope to begin with, your problem already has to be medicalized!
If you can convince hard-nosed, anti-snowflake conservatives that medicine they'll believe in is on your side in your suffering, maybe they'll finally let your suffering self off the hook if you have the temerity to notice that suffering might have legitimately cramped your style. Maybe then you can escape classification as failed person, a failed non-snowflake – a failed conservative.
That's a pretty bleak picture of the conservative mentality, and not a fair one, fortunately. It's especially not a fair description of the good folks at Ricochet, this Ricochet which has fortuitously saved me from inexplicable suffering. It is, however, the logical outcome of making "strong enough" anti-snowflake attitudes the mark of which self-identified conservatives count as "true conservatives," a mentality we all risk falling into from time to time, and an attitude which the alt-right, as far as I can tell, fairly explicitly promotes.
Not only do I have Ricochet to thank for helping me out of this bind, I have Ricochet to thank for making me aware of this bind in the first place, of how deeply the cost of information can make it reasonable to presume others have chosen their suffering even when they haven't:
Conservatives didn't pull, "Absent compelling evidence to the contrary, we assume your suffering is self-chosen," out of their duff. The assumption is useful because it's often true, and, when it's true, owning up to our choices empowers us to end our suffering – besides, what else is truly ours except our choices? The cost of wrongly attributing to circumstance the bad consequences of our choices is very high, not only practically, but especially morally.
Maybe alienating those who suffer innocently by wrongfully blaming them for their choices is a small price for a civilization to pay to avoid the even greater social cost of not noticing – or at least pretending not to notice – when suffering does result from bad choices.
Make no mistake, though, knowing you can't answer for your suffering, especially when it's wrong-footing you to the point where it seems impossible to avoid letting others down, is alienating. It's especially alienating during periods of life when your own tribe expects you prove yourself – prove yourself a good tribe member; heck, prove yourself a decent human being  – by proving just how tough and non-snowflakey you are.
---
It's even more alienating when the one correlation you have noticed between the suffering's power over you and everything else in the universe also happens to have become a conservative sacred cow:
Now that I know I had EDS, even of a fairly mild type, I know I wasn't so crazy all these years for hating natural female fertility from the first blush of puberty on. The hormones which flood a fertile woman's body during pregnancy and which, in lesser quantities, ready it for pregnancy each month also weaken collagen and increase joint instability. One hormone, relaxin, is even named for doing this, though other hormonal fluctuations also contribute.
Even perfectly healthy, athletic women are more likely to injure their joints in sync with their reproductive hormones' activity. It's worse for those with joints already unstable. Weakened collagen affects other bodily systems, too, as EDS itself demonstrates. Knowing what I know now, I can now say with confidence what I've observed all along:
It's not always irrational or (heaven help us) unconservative for a woman to find her natural fertility anything but beautiful. Sometimes it's just realistic. Nor need a woman be an ungrateful, terrible human being for finding pregnancy, nursing, and the postpartum period so nightmarish that sometimes the only way to not take the nightmare out on her fellow human beings is to cut off all contact with the outside world, writing dystopian fiction to drown out suicide's siren call.
No matter how much conservatives root for fertility, we should be honest that fertility imposes real costs on the female body. For most women, these costs are manageable, but can we be honest that it needn't take much deviation from the norm to make them something else? Pace @rachellu, some pregnant women will become invalids. Some will have been trained to bear "good conservative" guilt for being so incapacitated by pregnancy unless they know they have very good reason to be. And some – as I did until just now – will have very good reasons, but still won't (and may never) know them.
For me, going on "the pill" wasn't about sex. It was about wrestling those "natural, beautiful" feminine hormones that inexplicably made everything so much worse into a chemical straitjacket. Of course, at the time, we had no idea why that straitjacket (initially just an asthma-control measure the good docs had to browbeat a timid virgin into trying) worked as well as it did. Now, in retrospect, we do:
[W]omen on the combined pill, who do not experience sudden drops in their oestrogen levels, are less likely to experience injury as the result of loosened joints.
Because I didn't know until now why suppressing my "natural, beautiful" fertility hormones worked as well as it did pre-pregnancy, I couldn't predict how badly bringing a baby into the world would tank my productivity, my reliability, and my general worth as a human being (I mean, I expected it to be bad, but not as bad as it was). Nor could I explain to my bosses (who were kind and patient and gave me every conceivable chance) what the flip was really going on, especially postpartum. You can't so much as beg honest pardon for that which you yourself do not know.
Now, thanks to Ricochet, I have some clarity:
Because now I know – finally, after years of spurious "answers" that never really fit – what's wrong, and why pregnancy so dramatically worsens it. Now I can just expect my childbirthing years to suck extra hard, and not in that warm, snuggly, La-Leche-League way (speaking of which, EDS can also impede breastfeeding in super-embarrassing ways). During the years in which I prioritize popping out spawn, guaranteeing anything to employers would simply be deceptive. That is clarity, clarity I can work with. It is not the clarity conservatives want young Americans to have: Frankly, it's the clarity of a "loser." But sometimes winning – or the closest thing to it that's left – is finally getting to know what it is you've lost.
---

So thank God for Ricochet. Quite literally, I do. Simply knowing what I now know has given me back some of the power to plan my life I almost lost. With that, I end with one final request:
The Beighton maneuvers are easy to try at home. They're not easy for a layman to score accurately (that takes clinical experience and a goniometer), but they're easy enough to try to find out if you should ask a professional about hypermobility. Don't worry if very young children are that bendy: that's normal. What's abnormal is retaining that kind of flexibility past age ten or so.
Hypermobile joints are not at all scary when you know you have them and know the risks they pose. It's not knowing that opens you up for a world of hurt, not just to your body, but to your confidence and your very sense of reality, if (as often happens with the hypermobile) persistent attempts to "do the right thing" repeatedly turn out so very, very wrong. And…
If you happen to know any kid who's extra-flexible and who has "weird skin" … well … medicos like to say hoofbeats should remind you of horses, but sometimes you find yourself in Namibia, on the savanna, in a place where it's perfectly reasonable to hear hoofbeats and think, "Zebras!" instead.