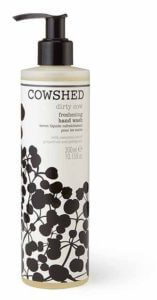 Have you noticed the new brand of toiletries called "Cowshed?" I saw it advertised in one magazine or another a few days ago, and then, in the little lavatory on an airplane just, I came across the item itself: next to the sink stood two bottles, one of soap and the other of cream, both labeled "Cowshed."
As it happens, I have some experience of cow sheds — or, rather, of one particular cow shed, which stood a few paces from the tiny cottage I rented for a year on the outskirts of Oxford. That cow shed housed an enormous bull and a couple of cows, who every day produced gallons of manure and urine from one end and, from the other, of mucous, which streamed from their noses unendingly.
It was, as I say, just a single cow shed; but, cows being cows, I believe it displayed sights and odors that all cow sheds must share. And here is my point. No one who had ever encountered a real cow shed, or who had ever even heard a just description of a cow shed, would ever, ever have given the name of "Cowshed" to a line of toiletries.
First people moved off the farm—whereas a century ago, a majority of workers in the United States was employed in agriculture, now agricultural labor accounts for only two or three percent of the workforce. And then people forgot farm life so completely that they could be persuaded to suppose that the words "cow shed" ought to conjure up notions of fragrance, not feces.
Progress. I'll take it, I suppose, but it can be very odd.