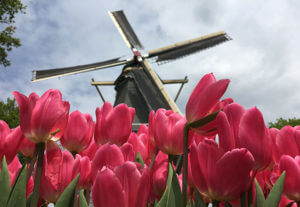 "???" I'm glad you asked. Every year in the third weekend in May, my hometown puts on the annual Tulip Festival. You may remember my post from last year around this time about our church food stand. One of the attractions at the Tulip Festival are the poffertjes made by the Dutch Heritage Boosters. I love these little rascals, and some years back I started volunteering to make them.
A poffertje is a little pancake-like treat about the size of a 50-cent piece or so, made with buckwheat flour, water, oil, egg, and a few other things. (According to legend, the exact recipe is known only to the upper echelon of the DHB. Or something like that.) We cook them up on a griddle that's basically a large square with a 10×10 grid of depressions in it – into each, we pour a dollop of batter, let it cook up, then flip it over, and put in a tray. Then we brush them with melted butter flavored with some rum extract, dash on powdered sugar, and hand them off with a napkin and a toothpick with the Netherlands on it. We sell trays of ten for $2 a piece. They go like hotcakes!
<crickets>
Well, they really are popular. We'll make them during the summer, a couple of times a month, but the big draw is Tulip Festival, and we'll sell thousands of trays. We work two-hour shifts, with two people on each of the three griddles in the "Little White Store." At peak demand, the line will stretch for half a block or so, but nowadays there's never not a line. I start griddl'n and never stop until the next shift comes, or we close the doors for the day. Pour batter into five rows on the griddle, wait for them to cook, flip them one by one with the fondue forks, then put ten in a tray and start over. Every few batches I oil the griddle. After two plus hours of that, my back and feet will be sore, and my eyes burning. I'm signed up for a shift on Friday, and two on Saturday.
It's quite a production. In February or so, the DHB gets some friends and volunteers together to mix up the dry ingredients into baggies so we can have them ready to go for Tulip Festival. We have to have 10-12 people doing various jobs each shift, and there's more that goes on than I know; I just griddle 'em up.
But that goes for the entire Tulip Festival. We've got so many events, so many ways that our community participates. We have a steering committee that runs things, but so much is handled by groups and individuals that just chip in and do their own thing. And every year, things just more or less work. And that's fine. Me, I'm looking forward to a free batch of poffertjes when my shift ends. Always tasty, always a good time.