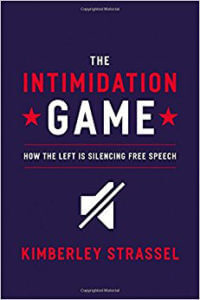 "Then it was the five-year-old's turn. You could tell she'd been thinking hard about her answer. She fixed both her brother and sister with a ferocious stare and said: 'Free speech is that you can say what you want—as long as I like it.'"
This was the lead-in anecdote to Kimberley Strassel's article in the latest issue of Imprimis from Hillsdale College. She was having a conversation with her children about free speech, and her five-year-old basically mimicked the words of the Left. Fortunately, she has time to grow out of it!
In Strassel's piece called, "The Left's War on Free Speech," she focuses on the origins of the current assaults on free speech and the destructiveness of the Left. (She also has a book called The Intimidation Game on this topic.) She traces the drastic assaults on free speech to the Citizen's United case in 2010. Although the Right saw this ruling as a victory, the Left doubled down to use every trick in the book to destroy free speech. As Strassel says:
In the weeks following the Citizens United ruling, the Left settled on a new strategy. If it could no longer use speech laws against its opponents, it would do the next best thing—it would threaten, harass and intimidate its opponents out of participation. It would send a message: conservatives choosing to exercise their constitutional rights will pay a political and personal price.
And they've made good on their promise.
Strassel cites the harassment by the IRS of around 400 conservative organizations. She also reminds us of the shocking pursuit by prosecutors, called John Doe probes, particularly in Wisconsin:
In one terrifying instance, the target of such a raid was on an out-of-town trip with his wife, and their teen-age son was home alone. Law enforcement came into the house and sequestered the boy, refusing to allow him to call a lawyer or even his grandparents, who lived down the road. They hauled items out of the house, and as they left they told the boy that he too was subject to the gag order—that if he told anyone what had happened to him, he could go to jail.
A lawsuit and the Wisconsin Supreme Court eventually shut down the probe.
In her last example, Strassel described the intimidation tactic against corporations and non-profits. Referring to the attack on the American Legislative Exchange Council, which played a small role in writing the "Stand Your Ground" laws, the organization lost half its donors in just a few months. .
For those of you who think that there is nothing the Right can do to change this assault on free speech, I ask you to re-think your position. When Donald Trump was elected to drain the swamp, some of us might have been tempted to sit back, wait for him to transform the country, and meanwhile put in our earplugs to block out the Left's diatribes. I think Strassel would disagree with this approach. She makes the following points:
These attacks are strategic and there is no end in sight. We need to cut the size of federal and state bureaucracies. (EPA Administrator Scott Pruitt and Interior Secretary Ryan Zinke are both conducting major reviews to eliminate or reduce boards, committees, and other entities. It's a limited effort but it's a start.)
We need regular reviews of agencies' use of powers to ensure they aren't overreaching and violating citizens' rights. Like the IRS, for one.
Corporations need to "get a backbone," push back and defend their rights to free speech.
Disclosure laws need significant modifications to defend the privacy of organizations and their members.
We need to publicly and loudly call out intimidation whenever and wherever it happens.
I say it's time for all of us to be creative and assertive in finding new ways to protect free speech. For example, if an organization on the right is holding a demonstration, local police or sheriff departments should not only be informed, but should be consulted to ensure the group's protection against violence. If law enforcement does not step in, media outlets should be told that they stood back and watched. We need to empower law enforcement as our partners in protecting free speech.
I'd also like to see a creative venture that either uses YouTube or even television to promote a regular show. It could be called "To Tell the Truth" or "Truth or Consequences." (Get it?) It would be a weekly program that showed videos of those on the left telling lies, then have a celebrity (country-western singers, conservative actors, retired but respected politicians – I'm thinking of Joe Lieberman) — who immediately follow the "untruth teller" with the truth. The responses would be honest and respectful. The producer, corporate investors, and everyone involved will have to put up with a lot, but eventually the production will start gaining attention. (If you don't like this idea, rather than attacking it, improve upon it!)
There are probably lots of things that we can do and that our politicians can do to stop the intimidation. Kimberley Strassel says one last thing in her piece that I think is important:
Finally, Conservatives need to tamp down any impulse to practice such intimidation [against the Left] themselves. Our country is best when it is engaging in vigorous debate. The Framers of the Constitution envisioned a multiplicity of interests that would argue their way to a common good. We succeed with more voices, not fewer, and we should have enough confidence in our arguments to hear out our opponents.
Let's have some fun and be creative folks! What are your ideas to stop the intimidation and the attacks on free speech?