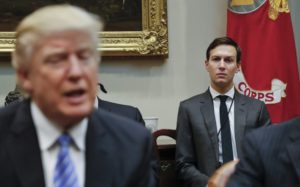 Many of us are very pleased with the choices that President Trump has made for his cabinet and for SCOTUS. Many of those selected are familiar with the ins and outs of government, and those who aren't are experienced with working with sensitive and global issues and leaders. So I'd like to explain my reservations with the president's selection of Jared Kushner as a senior adviser who is now taking on the management and/or leadership of a number of projects, both domestic and international.
First, I'd like to list the roles he has been assigned with a limited description of his duties and responsibilities:
White House Office of American Innovation—this work entails coordinating between the public and private sector to streamline government.
Shadow diplomat—according to the Washington Post, he is "the primary point of contact for presidents, ministers and ambassadors from more than two dozen countries."
Middle East Broker—working on a peace deal between Israelis and Palestinians.
Reforming care for veterans—it isn't clear what his role will be.
Fighting opioid addiction—again, his role has not been defined publicly.
It's been pointed out that he has many other duties in the White House, but these are the ones that have been identified.
So here are my concerns:
Kushner is described as a real estate and media mogul, and has been very successful. He was also a key member of Trump's campaign team. He not only has no government experience, but is only 36 years old. Although I'm sure he's talented, Trump himself spoke of Kushner in an interview: "Jared is such a good kid and he'll make a deal with Israel that no one else can," he told the UK Sunday Times: "He's a natural deal-maker — everyone likes him." Trump may be right, but calling Kushner a kid and characterizing him as likeable doesn't fill me with confidence.
His domestic responsibilities generate less concern for me than the international activities. I don't have a problem with his spearheading the Office of American Innovation, although it's been tried before:
But the Trump team is hardly the first seeking to improve how the government operates. The Reagan administration tasked the Grace Commission in 1982 with uncovering wasteful spending and practices, while the Clinton administration sought its own reinvention of government in 1993 with what was initially called the National Performance Review. Previous commissions have not produced overwhelming results in changing the stubborn bureaucracy, casting some doubt on what Kushner's team can accomplish.
Still, I don't mind his trying to streamline government, and the task certainly aligns with his business experience.
The other domestic issues are serious concerns, such as care for veterans and opioid addiction. My hope is that he brings in experienced, competent and creative people to work on these concerns.
My biggest concerns are with his international responsibilities. With his lack of international diplomatic experience, I question his role as "shadow diplomat." He may not be making decisions and only act as a liaison, but working with foreign countries can require a level of understanding and sophistication that he may or may not have. Unintentionally he may say or do something that compromises our relationships with other countries.
I am especially concerned about his potential role in the Middle East. I know that he is familiar with Israel and the Palestinians, but I don't know his beliefs or biases towards those countries; although he is working for a Republican administration, he is a liberal. And finally, could he unintentionally or purposefully compromise the strategies and goals of our Secretary of State, Rex Tillerson? Since the specifics of his role are unclear, and bringing him up to speed may be a monumental task, the potential for snafus or conflict are there.
Finally, will Trump take action if Kushner is not effective? Or is he so fond of him and impressed with his overall credentials that he will overlook errors or difficulties?
I wish Trump had not picked Jared Kushner for these tasks, particularly those that are internationally complex and conflicted. It doesn't bode well.