The always astute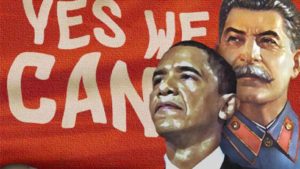 Daniel Greenfield (FrontPageMag.com) points to the New York Times article "When Communism Inspired Americans":
But the New York Times will run "When Communism Inspired Americans". It will run it because while Communism didn't inspire Americans, it did inspire the left to try and turn America into a totalitarian state. It still does. This is the dirty little secret that leaks out of the left.

When the media runs these evocative nostalgic pieces about Communism, it's the equivalent of a pedophile sharing snapshots of summer camp. It's the disgusting secret of truly vile people leaking out.

Here's a quote from the second paragraph. "America was fortunate to have had the Communists here. They, more than most, prodded the country into becoming the democracy it always said it was."
As cities worldwide start cleaning up garbage left by Marxist May Day activists, there is little discussion about what these people really aspire to. Mainstream media barely focus on their message, rhetoric, propaganda and hysterical chants, but instead, puts these people into a sympathetic downtrodden proletariat class. They purposely withhold educating their viewers as to the hundreds of millions who have suffered or were brutally murdered under Communist dictatorships.
Greenfield compares the Communist horrors to those of Nazi Germany, asking why western media cannot put the two in the same category.
Nazis don't get a forum to pour out their romantic nostalgia for attending Hitler rallies. Communists do because the left sympathizes with them. It must offer occasional apologies and disavowals, but the love for a horrifying ideology that was totalitarian all the way down, whose mass murder of millions was not an accident of fate, but was always an integral part of it, tells the truth about the left.
He concludes;
This is the left. It returns, like a dog to its vomit, to the dream of the true radicalism of a totalitarian leftist state. It occasionally deals with uncomfortable truths. Circles around them. And then it lapses back into an opium dream of Marxists sitting around a kitchen table and debating whom to shoot first.
We will be interviewing Daniel Greenfield tomorrow and would like to ask a few questions from Ricochet members. If you have a question, please submit below or IM me directly with how your name should be stated (pseudonym, first or whole name).