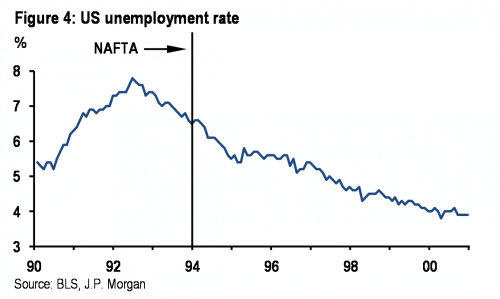 From the New York Times today:
President Trump said on Thursday he had agreed to pleas from the leaders of Canada and Mexico not to withdraw immediately from the North American Free Trade Agreement, but he warned he would still pull the United States out if he could not negotiate a better deal.

"I received calls from the President of Mexico and the Prime Minister of Canada asking to renegotiate Nafta rather than terminate," Mr. Trump said on Twitter. "I agreed…" Moments later, the president added, "…subject to the fact that if we do not reach a fair deal for all, we will then terminate NAFTA. Relationships are good — deal very possible!"

Mr. Trump's posts showed once again his taste for high-stakes deal-making and his willingness to reverse himself. Only hours earlier, the president's aides put out word that he was likely to sign a directive starting a six-month clock to end the trade agreement.
Certainly some on Wall Street found alarming the initial news flash that the president was going to sign an executive order beginning the withdrawal process. Investors had begun to accept the idea that while they might not be getting mega-fiscal stimulus, that was balanced off by less concern about protectionism. The WH not labeling China a currency manipulator was a good sign in that regard. And the tiffs with Canada over dairy pricing and lumber are considered minor.
But a NAFTA pullout would be a big deal, a story of higher tariffs and broken supply chains, notes this Quartz piece. Now we're back to the idea that withdrawal threats are part of the negotiating process. Again, the NYT: "As a practical matter, it is not clear if Mr. Trump's position has changed that much. During the 2016 campaign, he said he would seek to renegotiate Nafta, and pull out if he could not rework it to his satisfaction. That is essentially what he said on Twitter on Thursday morning."
Hmm. Maybe now is a good time to recall that the abandoned Pacific trade deal provided for a big update of NAFTA. Economist Jeffrey Frankel:
Is renegotiating Nafta to cover new issues, strengthen labour and environmental protections, improve dispute-settlement mechanisms, and include more countries all pie in the sky? Would it be impossibly difficult to negotiate a new agreement that had every one of these desirable properties? Well, trade negotiators already hammered out precisely such an agreement. It was called the Trans-Pacific Partnership, which Trump has nixed. In truth, the best way to improve Nafta would be to return to what was agreed to in the TPP.
Indeed, the Obama trade office outlined just such a case when it was pushing the TPP. Anyway, NAFTA has hardly been a disaster for the US economy. Far from it, as I wrote the other day, including the above and below JPMorgan charts.