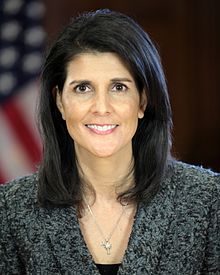 The United Nations is not on my list of favorite organizations. In fact, I've written an OP about leaving, if not disbanding, the institution. But now that Nikki Haley is the US ambassador to the United Nations, I'm having second thoughts.
In her short time in the UN, she has already ruffled some feathers. She's proposed making cuts in key areas—"Everybody knows there's fat at the UN. Everybody knows there's fat in the peacekeeping missions. So that's why we're taking [a review of] each one."
She has also proposed a focus on human rights in national security, and reforming the UN peacekeeping operations. She has said that peacekeeping missions have to be re-evaluated, and if they are not being managed well, countries may lose funding:
Asked why the UN should have an exit strategy for its peacekeeping missions, Haley said, 'Because there should never be a time we don't want to lift up countries. There should never be a time we don't want to make them more independent. If we're there all the time, all you're doing is creating dependence.' Haley also said that peacekeeping missions are 'not fair to the American taxpayer.'
Especially noteworthy is Haley's commitment to stop "Israel bashing." After her speech at the annual American Israel Public Affairs Committee conference:
She called herself 'a new sheriff in town' and said she would end 'Israel bashing' at the U.N. On Wednesday, she alluded to 'yet another ridiculously biased report attacking Israel' that resulted in the resignation of Rima Khalaf, executive secretary of the U.N. Economic and Social Commission for Western Asia. The report, which said that Israel has 'created an apartheid regime that dominates the Palestinian people as a whole,' was also withdrawn.
She says the Israel bashing is less intense, and she also was able to influence the UN in not placing a former prime minister of the Palestinian Authority in a top level position.
In addition, she will also be keeping a close eye on Iran's activities, and is prepared to act in response to violations.
Most recently Ambassador Haley and Secretary of State Rex Tillerson expressed different views on pursuing regime change in Syria. Ms. Haley indicated that a primary goal was to defeat ISIS and address Iranian influence in the area. But she also pointed to regime change as a necessity: "And then we've got to go and make sure that we actually see a leader that will protect his people. And clearly, Assad is not that person."
In contrast, Rex Tillerson said, "Our priority is first the defeat of ISIS. Once we can eliminate the battle against ISIS, conclude that, and it is going quite well, then we hope to turn our attention to cease-fire agreements between the regime and opposition forces.In that regard, we are hopeful that we can work with Russia and use their influence to achieve areas of stabilization throughout Syria and create the conditions for a political process through Geneva in which we can engage all of the parties on the way forward, and it is through that political process that we believe the Syrian people will lawfully be able to decide the fate of Bashar al-Assad."
National Security Advisor H.R. McMaster, when pressed to account for the difference between Haley and Tillerson, said the following:
What Ambassador Haley pointed out was, it's very difficult to figure out how a political solution could result from the continuation of the Assad regime. We're not saying that we are the ones who are going to effect that change. What we're saying is, other countries have to ask themselves some hard questions. Russia should ask themselves … why are we supporting this murderous regime that is committing mass murder of its own population and using the most heinous weapons available?
So I am cautiously optimistic that Nikki Haley may actually make a difference in the United Nations. She is demonstrating leadership to the Western and pro-U.S. countries, which may influence them to back us in our more challenging actions and positions. The Middle East is also being put on notice that the U.S. will not cater to its anti-Israel rhetoric and activities. And U.N. members shouldn't assume that standard operating procedures will continue without serious evaluation.
Still questions remain for me:
Will Ambassador Haley be able to make a lasting impact on the operations of the UN?
Will other countries join her in pressuring Russia and China to align with us?
Is the UN capable of becoming a different kind of organization that can make a difference in the world?
What steps need to be taken besides those that Haley is taking to transform the organization?