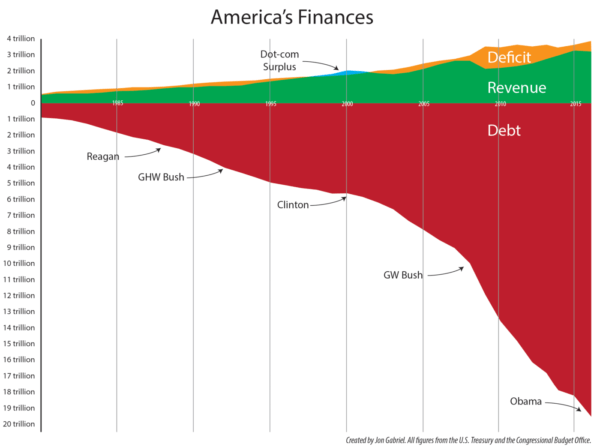 While the Beltway class hyperventilates over the latest political gaffe and jockeys for position in the 2018 midterms, there's one subject they studiously avoid: our nearly $20 trillion debt. I wrote about it for USA Today, but my chart above shows the facts better than any op-ed can.
Because most graphs look like this, I created my own user-friendly debt chart focused on three big numbers: deficit, revenue, and debt.
It's an imperfect analogy, but imagine the green is your salary, the yellow is the amount you're spending over your salary, and the red is your credit card statement. Then tell your spouse, "Don't worry, dear, I just increased our debt ceiling with a new Visa card!"

The chart is brutally bipartisan. Debt increased under Republican presidents and Democratic presidents. It increased under Democratic congresses and Republican congresses. In war and in peace, in boom times and in busts, after tax hikes and tax cuts, the Potomac flowed ever deeper with red ink.

Our leaders like to talk about sustainability. Forget sustainable — how is this sane?
I first created the chart in 2014 and update it every couple of years. And, every time, some on the right criticize it as being too harsh on the GOP while most on the left insist that debt doesn't matter because … well, it just doesn't, ok?
If anything, my chart is far too optimistic; I don't mention future projections due to exploding entitlements. Instead of mocking cruel conservatives for cutting Big Bird's budget, we should be yelling at them to cut more. Much, much more.