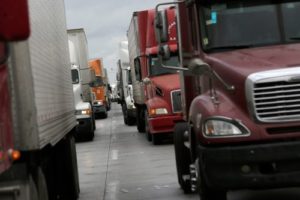 Techno-pessimists tend to be underwhelmed by recent innovations, like the smartphone, as well as most upcoming ones, like driverless cars. Especially driverless cars, it seems. In "The Rise and Fall of American Growth," economist Robert Gordon is dismissive of the productivity impact of all sorts of emerging technologies, including artificial intelligence and robotics. And he puts driverless cars right smack at the bottom: "This category of future progress is demoted to last place because it offers benefits that are minor compared to the innovation of the car itself or the improvements in safety that have created a ten-fold improvement in fatalities per vehicle mile since 1950."
I don't know how autonomous vehicles will affect measured productivity data. But they are going to be a pretty big deal, nonetheless. And I doubt too many analysts have thought through potential consequences as thoroughly as Benedict Evans of venture firm Andreessen Horowitz. His recent blog post, "Cars and second order consequences" is a must read on the subject. The first order consequences of electric — and they will be electric — autonomous vehicles are obvious. Fewer highway fatalities and a big drop in demand for gasoline, currently half of global oil production.
But what about the next order consequences? For instance, gas stations go away, but over half of US tobacco sales happen at gas stations, and they're often an impulse purchase. Evans: "Car crashes kill 35k people a year in the USA, but tobacco kills 500k." I wonder what happens to healthcare costs?
Anyway, lots in the post about road congestion, parking, municipal tax bases, housing costs, and where people choose to live. One other thing I wanted to highlight was the impact on jobs. What about all the truckers when their vehicles turn driverless? Evans:
There are something over 230,000 taxi and private car drivers in the USA and around 1.5m long-haul truck-drivers. The question of what happens to taxi and on-demand drivers has been discussed too widely and publicly for me to add anything here, but long-haul truck drivers have some interesting nuances (I'm here excluding local delivery drivers as they're often needed for more than driving the truck itself and robotics is a whole other conversation). The average age of a long-haul driver is now 49, and around 90 thousand leave the industry every year, half though retirement. The industry thinks it has a shortage of around 50,000 drivers, and growing – people are leaving faster than they can be replaced. Truck driving can be an unhealthy, uncomfortable job with a difficult lifestyle. Hence, on these numbers, over half the current driver base will have left in ten years, around the time that most people think full, level 5 autonomy might be working. In the short term, level 4 autonomy makes truck-driving more attractive, since you can rest in the back of the truck until you're needed instead of having to stop at mandated times. But on a 20-30 year view, which is really the timeline to think about this transition, effectively all current truck drivers will have quit anyway – you won't replace them, but you won't necessarily put anyone directly out of work – until you start looking at truck stops, which takes us right back to the convenience store discussion at the beginning of this piece. And meanwhile, truck-stop operators are already starting to think about the fundamentally different trucking patterns that might come from a shift in the logistics industry away from serving traditional retail and towards serving ecommerce (i.e Amazon).