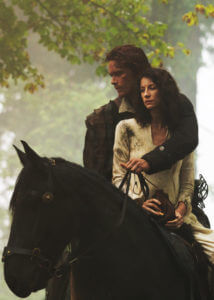 The Starz TV series "Outlander" has become something of a phenomenon. In three seasons, it has done more to explain why women are longing for real manliness in their counterparts. The observant can see the vast difference in the men in this show and the man on the street. It is partially a function of time travel; the men women are particularly enamored of are the men in the 1700s. This cannot explain all of the fascination.
Kilts. It's the kilts.
It isn't, really, but it is the manliness and security required to wear clothing that could expose the most sensitive and vulnerable parts of a man. It should come as no surprise that Outlander (the book) has been studied for its intense and nuanced views of male/female interactions. There is even a popular paperback book called Finding Fraser which describes the modern woman's lament and search for her own version of James Fraser, the male lead.
In order to really dive into the deep end of this, the show and the books need to be examined. I may mention character names without explanations. This is partly to save the show for people who want to be surprised, but pretty much everything that I am writing about requires a…
 SPOILER ALERT
I hope that at this point, those who want the show to be a surprise have left off.
Let us begin with a quick overview.
Outlander is a book about a WW2 combat nurse, Claire Randall, who accidentally travels through time back to 1742 Scotland. She travels back 202 years. During that time, she arouses suspicion as a well-spoken Englishwoman in the Highlands during another conflict between the English and the Scots. During the course of the show, Claire attempts to find a way to travel back to her husband in the 1940s, an MI-5 agent Frank Randall. Unfortunately, the suspicion aroused by her sudden appearance puts her in danger, requiring an arranged marriage to a Scottish outlaw, James Alexander Malcolm MacKenzie Fraser (JAMMF, in the fandom). Of course, there's a love triangle and of course, things get complicated. But this is enough of a summary for our purposes of discussion here.
Claire finds herself in a new world. Scotland in the 1700s was not a welcoming place for women. Even by 1940s standards, Claire was an independent woman. The Highlands would be particularly dangerous for a woman who felt her worth. Men were not used to being disobeyed or neglected. The concept of toxic masculinity could be placed here and would not be exceptional for the time. While there are the negatives of being placed in a time where women had limited options to support themselves, there were also positives.
Men were expected to be the protectors. They were expected to support a woman. Men served a purpose. Diana Gabaldon, the author of the series, describes it from JAMMF's perspective (emphasis mine):
"What in God's name do you think a man is for?" he asked at last. He spoke quietly, but in tones of complete bewilderment. "Ye want to keep him as a pet, is it? A lapdog? Or a caged bird?" — Jamie (JAMMF) in Fiery Cross, Chapter 79
This is an essential understanding of the traditional interaction between men and women. Men should not seek to lord their strength over women, but instead use it toward their protection. In this way, women cannot control their men. There is a wildness and viciousness to the nature of man; it is untamed. To tame a man is to make him ineffective. It is to take his power away and to make the marital unit weaker, as there is no designated protector. There are no designated roles. Predictability of roles and expectations helps people to understand one another, as well as come to agreement. It does not change the strengths of each gender. Both maintain strength, but tend to use it in different ways.
"There comes a turning point in intense physical struggle where one abandons oneself to a profligate usage of strength and bodily resource, ignoring the costs until the struggle is over. Women find this point in childbirth; men in battle." ― Diana Gabaldon, Outlander
Modern women have been seduced by the idea of equality in all things. The simple fact is that though they are equal in nature, they are not identical. At their core, even feminists know this. Cosmo, Elle, Vogue, and other left-leaning magazines applaud "Outlander" frequently for it's feminism and for the female perspective given to the show. While applauding, they seem to ignore how very traditional their praise for the show is. Even though the husbands are nominal feminists for their time, their roles are all very traditional.
Women do not just like this. Women need this.
There is an unspoken desire for women to be taken care of by their men. They need their men to be pillars of strength. Magazines are too proud to admit or even maintain self-awareness that they are also bringing the need for tradition to the fore. Strength does not require men to be perpetually stoic during all times of adversity, foregoing any display of emotion, but it requires men to adhere to certain traditional gender stereotypes. Whether or not it is explicit, much of the popularity of "Outlander" is from the acknowledgement that even in changing times, with changing roles, with Claire becoming a doctor and having her own career, men need to be the men in the relationship. Women need that complementary role, but more importantly, women need protectors.
There comes a point later in the books when Claire is sexually assaulted. I sincerely hope that the TV series does not change this scene, since it is very human. Some of the men are of the mentality that sex is power, some violent, but some are pathetic, lonely, sad men who see this as their only way for human connection and female compassion. One of the offenders even cries during the entire exchange. Claire, though violated, still feels a sense of regret and remorse from this man and recalls him in later books.
Sexuality is nuanced in both the books and in the series. The traditional roles are explored, but also the idea of woman as aggressor and as violator (see books 7-9). There is a very clear delineation between the natural and the unnatural. There is a clear line between positive sexuality and negative sexuality. More importantly, the sexual politics are approached with a strong bias toward value. What is the value of the sexual act? What is the value of the human beings involved? Is human value being respected?
The sexual act is always framed with respect to the humans involved. Women everywhere appreciate this. In every sex scene there is, there is an emotional component. Everything has meaning. People are not simply props for some salacious exposure of skin. People have value. Men respect that value.
When women are violated or sex is used as a bargaining chip, the questions are brought forward, not only by the women, but by the men in their lives.
"And if your life is a suitable exchange for my honor, why is my honor not a suitable exchange for your life?" ― Diana Gabaldon, Outlander
Indeed. In modern times, the idea of honor is almost completely lost on the current generation. We do not even have a discussion about honor anymore. This is another point of seduction in "Outlander." Honor? Men? Women? They are speaking of honoring one another and a sense of value!
Ultimately, the reason why "Outlander" is so popular is that it treats men as men. It judges men by their own standards: courage, strength, ability to protect, honor. It does not judge the men with today's weakened and softer sensibilities. It judges them by their standards and by standards they have been genetically called to meet. It does not excuse them for being men, nor does it ask them to be something other than what they are. There are good men and there are bad men, but they are judged as men.
And it is refreshing.