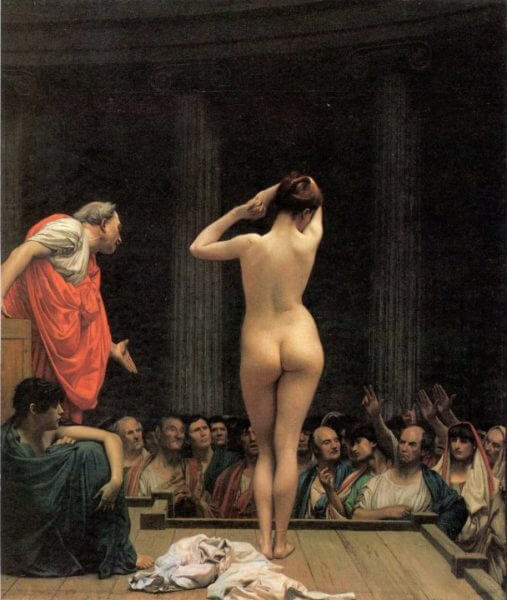 Gerome was one of the famous Academic painters in nineteenth century France. He painted slave markets, ancient and modern, more than a few times, but this is the only one that, by its unusual choices, captures something insightful and morally inquisitive. This painting is an education on the meaning of love of beauty, psychologically, artistically, and politically.
Let's start thinking through the painting with what's obvious. The title tells us, this is a Roman slave market. There are two slaves on a platform, whom the slave trader is trying to sell to the crowd. In all, some two dozen people make up the scene. This is utterly ordinary for Rome, just as it would have been shocking in turn of the century France, or nowadays. The painter's choices, his use of perspective and detail, try to put together what's shocking and what's ordinary to educate us about important things for human beings.
The terrible predicament of love of beauty
We are the audience of this painting and the scene that attracts our attention has an audience of its own. We are shown the back of a denuded slave girl, as well as her discarded robe, whereas they are shown the frontal view. This may seem like a crazy suggestion, but we need each other to make a whole of our two partial perspectives. The painter, like any of us, knows we have a power in our soul to make wholes of the fleeting, partial things we see. We know what girls look like and this image-making power of the soul would supply what is missing, that we may recognize from an inevitably partial perspective the whole that is a being. That power is our first inner critic, so to speak, letting us know what we see when we look around, and whether the painter has given us an adequate image of that which we know within ourselves.
We look at paintings primarily because we want to see beautiful images of things. Our inner critic is tickled pink to recognize images as what they are, as well as the things or people of which they are images. In this way, painters try to educate us: The beautiful bears in our souls and in our cities the responsibility for recognizing the beings. We first seize by the eye, at a glance, and that is our sense of the wholeness of each being, as a part of the world, but apart from all the other parts.
What this painter has done in this case, however, is to show us that our love of beauty, which moves us, among other things, to look at paintings, also moves people just like us to attempt to enslave. By the eye alone, the painter sells his illusions—by the eye alone, the slave seller sells his. We are not innocent when our eyes are open. Our souls are open to desires that endanger our humanity. There are obvious differences between people and their images; to say nothing else, common sense tells us we can talk to girls, but not to the images of them. Still, it were foolish to dismiss the connection between the girl and her image. We are, whatever logic might require, perfectly capable of being aroused erotically by movies, or paintings, or even poetry.
The painter has therefore generously spared us the transfixed focus we see on the faces of the eager audience of the humiliation of the slave-girl. We know, don't we?, what all the fuss is about, but we needn't experience quite all of it. We may see ourselves in that audience. Look at their faces, their searching eyes, the hands raised—reaching out is all about ownership in this case, so that by paying a sum of money a man is relieved of his fever—there is even a man who's merely pointing to the spectacle and talking about it with another. In retaining our wits, we are required to examine the scene. This partial perspective is one that's denied to the audience we see depicted. We will have to say frankly, we are made to look at the world from the slave's perspective, not that of the master. We could say, at least in a preliminary manner, that the reason the men want to enslave the woman is because they have first been enslaved by their desires.
The poetic education of desire
We, too, notice the beautiful body of the slave girl–her health, her youth, her natural grace. Painting promises to educate our love of beauty. It is unnecessary to argue why this should be necessary when we are presented with the spectacle of slavery. Both audiences share in beholding. The men in the other audience, however, want to move from distant beholding to up close holding, possessing beauty. Possessing a beautiful image is in a sense educational, because it is less feverish, but let us not deny that both desire are constitutive to our eroticism! But people are perfectly capable of denying the dignity of a painting, not merely of a girl. Poetic education is hard to come by because we are dismissive of the powers of things and images to speak to us. This education seems to consist in offering a kind of relief from the fever that attends on eros, by returning us to a perspective where we are not deaf to the requirements of morality and justice even as we are not blind to the promises of beauty.
The function of the painter is essentially conservative, inasmuch as he wants to protect a decent society, including from the kinds of dangers to morality and justice painting itself creates or encourages. But to do that work, the painter needs to understand both the things we would readily confess about ourselves and the the things revealed when we are unaware of ourselves. The audience in the painting, in being focused on a naked body, is careless of what it itself may be revealing. We are becoming aware of ourselves as an audience. The two most beloved images of the work of painting are the window and the mirror. The more we see ourselves mirrored in the other audience, I have tried to show, the more we begin to see through the painting as through a window into the world of human things, which are our natural and proper concern, but which require a guided study. We have to see ourselves in others and others in ourselves.
Shame and insight are the two additions to beautiful imitation that poetic education relies on. Our sense of shame is in deep ways tied to our eroticism. The slave girl, who cannot hide either her breasts or her sex, nevertheless can and does hide her face. In refusing to see the world that stares at her shamelessly, she reenacts the original gestures of shame, the attempt to become hidden which spells out the intuition that something in us is properly understood as a mystery, is private rather than public, and should not be forced into the light to be examined. Look at the boy next her: could you tell whether he is next to be humiliated or has just returned from the ordeal? Look at his naked hand—he is not trying to defend himself, but his robe. Look at the stripped robe on the platform, now powerless to do what it is meant to do. One slave hides her face, the other everything else. This is because of our sense of shame is tied up with our individuality, our being who each of us is. That we see in our faces—comparatively, the body is anonymous. But the social condition of this psychological fact is clothing. That is our sense of shame enacted to protect our insecure grasp on ourselves. We are, after all, each of us, a mystery not only to others, but to ourselves as well.
The painter, in forcing us to have recourse not to our eyes, but to our minds to complete the image of the girl, faces us with this question: Do you know who she is? No, we do not. We have knowledge of generalities; we understand what such a being is that we call a girl. But to know this particular one would require an experience we cannot have. And after all, an image is not a person. There is no image of a person, is there? The only experience that can adequately remind us of that problem is searching to find out something that will not allow us to find it out. One part of the girl is available neither to us nor to the fictional audience in the painting: her face. She remains mysterious, as she should be. The shamelessness of the audience is visible in the invisible thing we now know to look for: A blush.
Gerome painted this Roman slave market in 1884, or thereabouts. By that time, his way of painting was already being replaced by the new Impressionism. By the early 20th century, when he died, oblivion was forthcoming, inevitable. The story of progress in the art of painting and the unfolding waves of modernism do not have the place or time for painters like him. He was not a master, but a competent painter who occasionally hit on scenes that please and startle at the same time. I hope you see in my essay some of the education we have lost because of our modernism. It's high time we got it back.