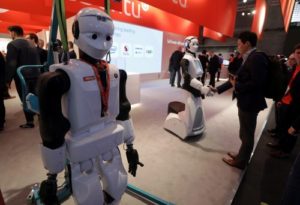 Andy Kessler dislikes Bill Gates's "robot tax" idea about as much as I do and explainS his reasons in the Wall Street Journal. Among them, Kessler doesn't like how such ideas — particular Gates's notion that we may want to slow progress so workers can better adjust — feeds into the "degrowth" movement. Yes, "degrowth" is kind of a thing. Kessler:
There is a murmuring movement out of Europe known as "degrowth." If this sounds to you like a cabal of cave dwellers, you're not that far off. Degrowth Week in Budapest last summer featured enchanting sessions like this one: "Popular competence building against the Technocracy." Channeling Ludd, industrial insurgents and sustainability samurais want to keep things the way they are, like the eco-protesters at Standing Rock. The site degrowth.org is clear about the movement's unproductive goals: Consume less and share more.
Well, advanced economies just ran a fascinating, real-world degrowth experiment. It was called the Global Financial Crisis. An economic shock followed a decade of sub-par economic growth. It wasn't broadly popular. Really not all.
To be fair, I don't know much about the degrowth movement. But here are some ideas that came from a 2010 conference in Barcelona (via Wikipedia):
Promotion of local currencies, elimination of fiat money and reforms of interest
Transition to non-profit and small scale companies
Increase of local commons and support of participative approaches in decision-making
Reducing working hours and facilitation of volunteer work
Reusing empty housing and co-housing
Introduction of the basic income guarantee and an income ceiling built on a maximum-minimum ratio
Limitation of the exploitation of natural resources and preservation of the biodiversity and culture by regulations, taxes and compensations
Minimize the waste production with education and legal instruments
Elimination of mega infrastructures, transition from a car-based system to a more local, biking, walking-based one
Suppression of advertising from the public space
This doesn't exactly sound like a society ready to become, as Elon Musk wants, a "multiplanetary" civilization. Or one that's ready to eliminate extreme global poverty (since the progress so far has depended on economic growth). Or one, frankly, that worries too much about freedom. Actually, it sounds super boring. Anyway, what I do know is this:
Economic growth — material abundance and the opportunity for human advancement it generates — is the beating, sustaining heart of modern civilization. Longer lives, more interesting lives, safer lives. Mass flourishing — with lots of cool stuff and more on the way. … So thank you, market capitalism. Or perhaps "innovation capitalism" is the better term. Economist Deirdre McCloskey offers several preferable options including "technological and institutional betterment at a frenetic pace, tested by unforced exchange among all the parties involved," and "fantastically successful liberalism, in the old European sense, applied to trade and politics, as it was applied also to science and music and painting and literature."
I wonder what sorts of opportunities and experiences will be available if technological progress and living standards are many multiples higher a century from now? Or put it this way: Who would rather trade their current living standards and lifestyle for that of their grandparents? Let me end with this from my recent The Week column:
Happiness economics is based on the idea that once you achieve a certain wealth level, more wealth makes you no better off. But economic growth isn't just about more and better stuff. It's also about how rising prosperity can create more opportunity to live a life of deeper human flourishing. High incomes "may not buy happiness with life in general, but it gives individuals the opportunity to be healthier, better educated, better clothed, and better fed, to live longer, and to live well," write the researchers of Measuring Happiness. Just ask the two billion humans pulled out of extreme poverty in recent decades about the importance of economic growth.

But growth isn't important just for developing economies. If the U.S. economy had grown as fast in recent decades as it did in the immediate postwar decades — even assuming rising inequality — the typical U.S. household would be $30,000 richer, according to a 2015 Obama White House report. So maybe a fancier car, but also more opportunity to move to a city with better job prospects, travel the globe, or educate ourselves. Economic growth may not be sufficient to creating a better world for more people, but it sure seems necessary.