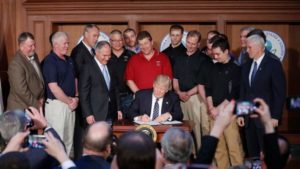 President Trump issued a sweeping executive order Tuesday to unravel several Obama-era environmental and energy regulations. Signed at the EPA headquarters, the order calls for an immediate review of Obama's Clean Power Plan, which restricted greenhouse gas emissions at coal-fired plants.
"We're going to have safety, we're going to have clean water, we're going to have clean air," Trump said, "but so many [regulations] are unnecessary, so many are job-killing." He added, "Together we are going to start a new energy revolution."
Fox News provided more detail on the executive order:
In addition to pulling back from the Clean Power Plan, the administration is lifting a 14-month-old moratorium on new coal leases on federal lands.

The order also chips away at other regulations, including scrapping language on the "social cost" of greenhouse gases. It initiates a review of efforts to reduce the emission of methane in oil and natural gas production as well as a Bureau of Land Management hydraulic fracturing rule, to determine whether those reflect the president's policy priorities. It also rescinds Obama-era executive orders and memoranda, including one that addressed climate change and national security and one that sought to prepare the country for the impacts of climate change.

Pushback from Democrats was swift, with House Minority Leader Nancy Pelosi blasting the administration's "spiteful assault" on the Clean Power Plan and declaring it would not bring coal jobs back.

"President Trump and Congressional Republicans' contempt for clean air, clean water, and our clean energy future endangers the health of our children and the strength of our economy," she said in a statement.

The Clean Power Plan has been the subject of long-running legal challenges by Republican-led states and allies of the oil, coal and gas industries.

Trump's overall executive order goes beyond that program and will suspend, rescind or flag for review more than a half-dozen measures in an effort to boost domestic energy production in the form of fossil fuels.