March 17th is the 59th anniversary of the successful launch of Vanguard 1. It was the second satellite put into orbit by America and the fourth satellite overall (the first two were Soviet satellites). The Vanguard 1 satellite was designed by my Dad.
In 1950, a famous meeting in Jim Van Allen's house eventually led to declaration of the International Geophysical Year (IGY) from 7/1/57-12/31/58. This built on the polar years of 1882-3 and 1932-3. These 18 months were expected to be a solar maximum and various research projects were pursued. In 1955, both the US and the Soviet Union announced that they would launch a satellite during the IGY. The Eisenhower administration established the Stewart Committee, led by Homer J. Stewart of the Jet Propulsion Lab, to decide who would receive funding for the American satellite program. All three services made proposals, but the Air Force was focused on developing the Atlas ICBM and did not make a serious effort. The Atlas project was led Karel (Charley) Bossart who later become a family friend.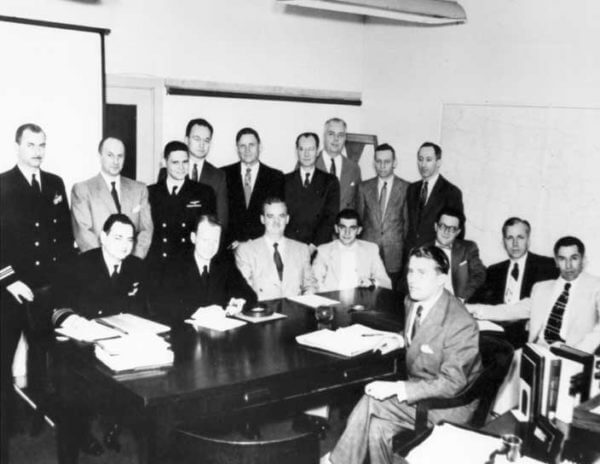 Both the Navy, led by Milt Rosen of the Naval Research Lab (NRL), and the Army, led by Wernher Von Braun, made serious proposals. My Dad co-wrote the Navy proposal which won the nod. Milt had led the Viking Rocket program which conducted upper atmospheric research. Von Braun could not believe that he lost and had a second hearing which did not change the decision. The Vanguard proposal was superior from a scientific perspective and that was the major criterion. In 1955, few were considering the propaganda coup launching the first satellite would be. Milt commented in private that the Army have a rocket and he didn't. One thought was that what became known was Project Vanguard at NRL was selected in since it would not divert energy away from building ICBMs. Instead, the opposite occurred. Martin, the primary contractor for both Viking and Vanguard since Vanguard's first stage was an upgraded Viking rocket, won a contract to work on the Titan ICBM. Many of its best engineers were transferred away from Vanguard. Thus, work on an ICBM slowed down Vanguard.
My Dad helped design the space tracking system for Vanguard called Minitrack which used radio waves from the satellite's transmitters. Air Force Col. Asa Gibbs suggested that the Vanguard test launches carry a small satellite. The full IGY launches would carry a 20" satellite. The TV (test vehicle) satellite, also designed by my Dad, was 6" and weighed 3.5 pounds. In spite of its small size, it carried two transmitters one of which used solar cells for the first time in space. The solar powered transmitter worked for six years (battery powered ones lasted for weeks or at most month or two). It also used transistors. The transmitters were designed to vary slightly based on the temperature so they provided an estimate of it inside and outside the satellite.
On October 2nd, 1957, a memo was sent out that there would be no more paid overtime on Vanguard. Two days later, the Soviets launched Sputnik 1 and the memo was ignored. Suddenly the money spigot turned on. Marty Votaw, who worked for my Dad on the Vanguard 1 and Minitrack, recalled that Dad called him on the evening of October 4th. It was the first time Marty had had guests for dinner in a long time. Dad said, "The Soviets have launched a satellite." "Good, it proves it can be done", Marty replied. "You don't understand, we have to modify Minitrack to track it" [Sputnik 1 transmitted on 20 and 40 MHZ whereas the IGY specified frequency was 108 MHz]. Dad said. "Can I finish dinner first", Marty asked. "Yes, but get here right afterwards." They worked for three days straight and successfully modified the tracking system.
A month later, Sputnik 2 carried a dog into orbit to celebrate the anniversary of the Russian Revolution. Pressure on the Eisenhower Administration was intense. They announced that the first three stage Vanguard test would launch a satellite. That astounded the Vanguard scientists and engineers who thought it unlikely to be a full success. At the 75th anniversary of NRL in 1998, Milt Rosen said that he had no confidence that TV-3 would work since basic safeguards were bypassed given the time pressure. Dad said that they got three good rockets from Martin and successfully launched three satellites into orbit. Marty Votaw stated that they became prisoners of the time schedule. If it said that a rocket would be shipped to the cape on Day X, it was shipped on Day X rather than being fixed at the factory which was much easier. TV-3 lifted three feet off the pad and blew up on national TV. It was dubbed Flopnik. But the satellite survived and Dad put if back into its wood box, bought a seat for it, and carried it onto the plane back to DC. It sat in our house overnight and is now in the National Air and Space Museum. I told the story to Dava Sobel and she wondered what TSA would make of a passenger carrying a satellite on a commercial flight..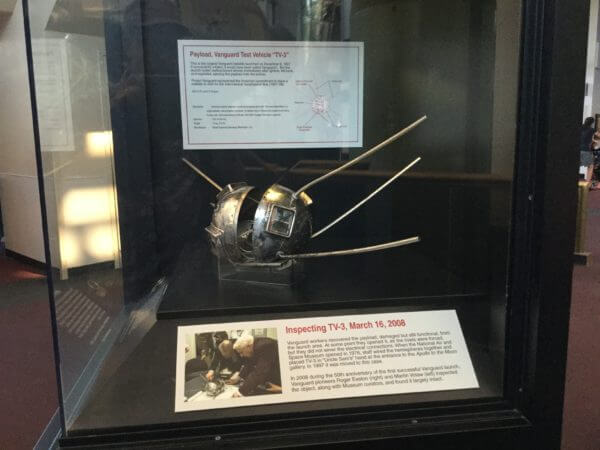 In January, 1958, the Army launch Explorer 1 into orbit. On St. Patrick's Dad, Vanguard had the luck of the Irish and TV-4 was renamed Vanguard 1 with its successful launch. A week or two before this, Dad brought the Vanguard 1 satellite home for some family pictures.
I'm wearing the red coat in first six seconds of this video.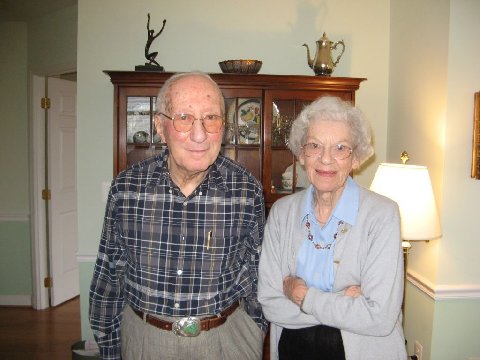 NASA was established effective 10/1/1958. Most of the NRL people who were working on Vanguard transferred to NASA but Dad stayed at NRL where he invented the obscure system known as GPS (some in the Air Force disagree about this).
I met Milt and Sally Rosen in 2009. Sally said that they were in Paris when Sputnik 1 was launched. Their Parisian friends wondered when the Soviets would fire an ICBM at Paris. In 2008, many NRL people met for the 50th celebration of Vanguard 1. Alas, few of them are still with us.
Suggested further reading:
The First Space Race: Launching the World's First Satellites by Matthew A. Bille and Erika Lishock – wonderful book
and of course, you won't get away without my mentioning my own book.
http://www.gpsdeclassified.com
Jim Lovell holding a fine tome.