Sick of news, politics, and that chatty co-worker who eats a garlic bagel every morning? A new life awaits you in the off-worlds! On Wednesday, NASA announced that they have found seven new Earth-sized planets. The best part? They're just down the street, astronomically speaking.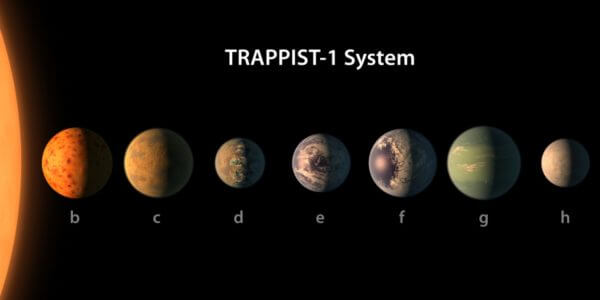 The star TRAPPIST-1 is the sun for these seven worlds, just 39 light years away from Cape Canaveral. It's located in the Aquarius constellation, visible every fall in the Northern Hemisphere. Technically, TRAPPIST-1 is known as an "ultra-cool dwarf star." (Scientists probably added "ultra-cool" to make the sun feel better about that whole "dwarf" deal.)
All seven planets are considered temperate, meaning all could potentially have water. Of those, three are located in the habitable zone (shown above as d, e, and f), making them the most likely to support life. For all we know, they could already be flush with flora and fauna, or at least could be an excellent spot for humans to export our plants and critters.
"This discovery could be a significant piece in the puzzle of finding habitable environments, places that are conducive to life," said NASA's Thomas Zurbuchen. "Answering the question 'are we alone?' is a top science priority and finding so many planets like these for the first time in the habitable zone is a remarkable step forward toward that goal."
TRAPPIST-1 got its name from the TRAnsiting Planets and PlanetesImals Small Telescope in Chile, which was used to discover some of its exoplanets. NASA's Spitzer Space Telescope identified the rest of the planets and provided the data leading to the space agency's announcement.
You can watch NASA's short video on the discovery here:
.