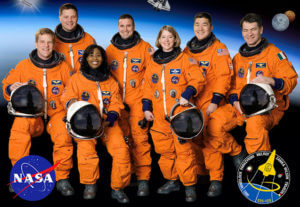 I should write a technical post on the emerging post-Shuttle age of manned space flight, but I'll leave that for Rand Simberg, James Gawron(?), John Walker, and the others who are more knowledgeable. Instead, I'm going to bring up a NASA language peeve: The tendency to misrepresent the meaning of "man" and "manned."
NASA, depending as it does on public relations, has probably always been a PC kind of place, at least in the public face it puts on. There is a great Bloom County cartoon satirizing the tendency to promote "firsts" in space by race, sex, and ethnicity. Those of you old enough to remember the Apollo days or earlier will no doubt recall discussions of "manned spaceflight." But since at least the 1990s, and I suspect the 1980s, the term "manned" has been suppressed in NASA use in favor of the clunkier "human spaceflight." Today, that inelegant phrase is increasingly replaced by the unfortunate-sounding "crewed."
If it were just confined to PC-ness at NASA, I'd roll my eyes and not worry. But I've seen science outreach types scold people on Twitter and Facebook for using the traditional English, so it's come into the realm of the social media pile-on. I've been on the receiving end of it myself, from a friend who referred to women being "oppressed" by the word.
This is all a misunderstanding of the language and perpetuates the falsehood that something "manned" specifically refers to males. The English word man goes clear back to the very beginnings of our language, Old English (ca. AD 500), with the original meaning of a human being of either sex. In fact, it comes straight from the Proto-Indo-European word man- (ca. 4000 BC) with the same meaning. The usual Old English words for adult male and female were wer (still retained in "werewolf") and wif (root of "wife" and the first syllable of "woman").
The secondary meaning of man as an adult male didn't begin until very late in Old English, around the year 1000. That's a little before the transition to Middle English, which occurred after the Norman invasion. As that meaning became common, wer was largely dropped, and wif began to take on the more specialized meaning it has today, though the original use survives in midwife and old wives' tales, among others. And of course, man retained its original meaning, which we still use.*
Now as a verb, to man (leading to manned) is also old. It dates back to Old English as mannian (with the infinitive ending), and it comes from that original meaning of the noun man as "human being." The example I linked above is nearly a century before man began to split its meaning. So while a lot of things that are manned (ships and forts are among the usual examples) have often been done by males, the word was understood as referring to humans and applies to women as well. The word man simply did not have a sex-specific meaning when the verb was coined.
Making a point of changing this word is to misunderstand its meaning. Worse, by making a point of it, this reinforces the mistake and leads others to misunderstand it. This is why I'm not playing along. The next time I get scolded for not using "inclusive language," I'll explain how this is inclusive language.
* I'm getting most of the etymology from Douglas Harper's wonderful Online Etymology Dictionary, but I've confirmed his timeline with the Oxford Dictionary of English Etymology.