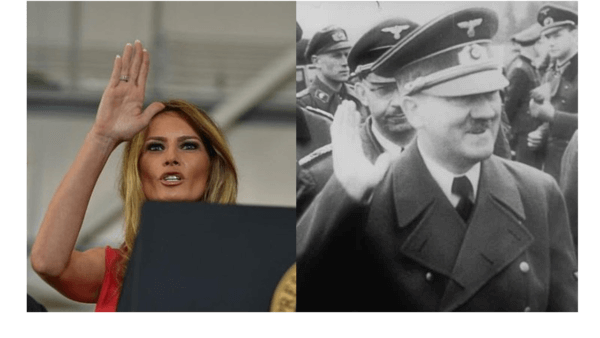 It is well known that dictatorial regimes employ religious symbolism to appropriate God to their secular causes. The National Socialists in Germany in the '30s (i.e., the Nazis) were an outstanding example of this, endorsing "positive Christianity" and asserting that "God is with us" on propaganda posters. The Trump regime has now taken the next step on their road to ultimate power by sending the First Lady of the United States, whom many until now regarded as an innocent, simpleton concubine of the great leader, to lead a mass rally of sheep in the Lord's Prayer as a preliminary to a Trump rally.
So it begins.
Ms. Trump's choice of prayer, also known to Christians as the "Our Father," was clearly a deliberate attempt to invoke the idea of the Fatherland. The prayer is filled with autocratic, monarchial imagery of a subservient people, thanking the leader for a crust of bread and begging for pardon from the king. Numerous observant SJWs noted that Melania Trump, dressed in bright red reminiscent of the Nazi flag, appeared to read the prayer, and that her middle European accent was comical when it wasn't blood chilling. Some even suggested that her hair was more blonde than usual.
Leni Riefenstahl could not have arranged a better motif and more convincing imagery for a dictatorship rally. But free Americans standing together for the rights of all races and creeds, for immigrants and for women and for the oppressed LGBTQ community are not duped by this vulgar circus. The case for impeachment is even stronger now with the wanton attempt by the First Lady to establish a state religion in violation of the first amendment.
Now is not the time to falter or sleep. Now is the time to maintain the #Resistance.
#NotMyFirstLady! Right on!
[On this week's edition of the Harvard Lunch Club Political Podcast we will be joined by Washington Examiner columnist Byron York. Tune in!]