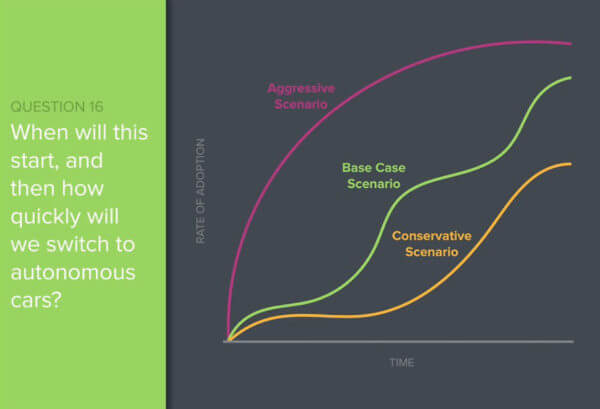 As part of an excellent presentation and recent podcast, analyst Frank Chen of VC firm Andreessen Horowitz takes a crack at answering the question above. First, this from an audio presentation with slide deck, "16 questions about self-driving cars":
So when will this beautiful world happen? … NuTonomy says 2018 they're live in Singapore, top ten cities by 2020. Delphi and Mobileye say they'll have self-driving systems available to the car manufacturers by 2019. … 2020 GM says that's when it will have its cars. Ford says 2021 they'll have Level 5 cars available to fleet makers. BMW ships the iNEXT in 2021. Tesla who's arguably out ahead of this right now says 2023. Uber says that its entire fleet will be autonomous by 2030. And IEEE says that by 2040, 40% of all care on the road are autonomous. So you see quite a range of predictions on when this glorious future happens, and then once it starts we don't know what the demand curve will be…. But look, it's going to happen in our lifetime, which is probably not something I would have predicted ten years ago.
As to that last point: How fast will driverless cars spread once they are first on the road? Here on the podcast is Chen, Carl Pope (former executive director and chairman of the Sierra Club and author — with former NYC mayor Mike Bloomberg — of the upcoming book Climate of Hope: How Cities Businesses and Citizens Can Save the Planet), and a16z's Sonal Chokshi:
Sonal Chokshi: How fast do you guys think that will happen? What's the rough timeline?

Frank Chen: Well, if you look at public estimates given by the auto manufacturers. I'm talking about incumbents now. You'll see a range, anywhere from 2019 to 2024 being the year where they first introduce their autonomous vehicle. It might happen even earlier for fleet sales. The most aggressive auto manufacturers are saying 2019 is when this revolution starts and then we have a question of what's the adoption curve. Will it be S-shaped like it was for the iPhones? Will it be straight up to the right because it's just so awesome? And obviously that has implications of which companies are going to win, but it's going to start soon.

Carl Pope: I think one of the things that's important is if we go to shared vehicles … every shared vehicle replaces roughly eight other vehicles. Even today, with today's technology and today's ownership patterns, if you only have an eighth as many cars on the road but people are still driving as much, more or less, that means every car drives eight times as far a year. Now we turn over the automobile fleet every thirteen years and most of the projections people are making about how fast this happens assumes that thirteen-year turnover rate. … If you only have an eighth as many cars and they're driven eight times as far and they're retired, let's say, five times as quickly, the whole automotive fleet is turned over in three years. So it might start a little later than the optimists think, might start in 2022, but it might be over by 2025.

Chockshi: Why might it be over?

Pope: Because in three years the whole fleet might have rolled over and once you start selling autonomous cars in large numbers people will not buy cars that have to be driven. Being able to drive your own car is going to become a very expensive option.
Hopefully I correctly matched all the voices to the right person. If you have an interest in the subject, I urge you to listen to the entire episode. And you might want to also check out this congressional hearing from today on driverless car regulation.