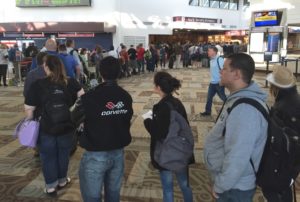 "Why do you always say that we have failed miserably when it comes to handling terror threats?" The question was offered in a less-than-sober setting by an adjunct professor in political science, and even though all in attendance were at varying stages of drunkenness, my reply was sober. "United and American Airlines are still in business."
"What the hell does that have to do with anything?" was the incredulous reply from the economics professor at the table, as he re-lit his cigar. I nearly choked on my scotch, as I replied, "It's a good thing you have tenure, darling. Seriously? Please, tell me, how much is it for a flight to London on Pan-Am or TWA."
He burst out laughing, and probably was feeling a little superior for a moment, "You know they're out of business!"
"A-ha!" I said, before taking a drag on my clove cigar. "If we hadn't screwed the pooch, United and American would have gone the way of the dodo, like Pan-Am and TWA did, and rightfully so. Big government saved them, pure and simple. And Americans bought it, because they were afraid."
"She's got you there," the least sober among the party piped in, "Bush took advantage of fear to grab power. Simple exploitation, and misuse of social psychology." The sociology professor went back to staring at his half-full glass, probably trying to just keep conscious.
I bring up this conversation that occurred in a last bastion of freedom — a private club somewhere in the Commonwealth of Pennsylvania, where over-regulation generally forbids the consumption of alcohol and smoking in the same establishment — for good reason. We, as a society, have become far too docile when it comes to accepting edicts from on high within our government. That is not news around here, but even here, that "but it's for our safety" excuse has seeped in, replacing rational thought.
While there's more than a little push back on the Department of Homeland Security, and the TSA in particular in these parts, it's relatively rare for anyone to bring up the notion that it's wholly unnecessary and that there always was a free market response to the issue of airline travel safety in particular. Thanks to the current temper tantrums emanating from the White House, over banning the "dangerous" people from coming to America, the issue of airline travel safety is worth bringing up now.
The problem inherent with government being charged with ensuring the safety of Americans and others flying our friendly skies is that the employees have no stake in the situation. Yes, they get a paycheck, but if they screw up, there's a good chance they won't lose it. If that were the case, every time we see news about them failing "tests" on security, the stories would include an employment "body count." They don't. No one seems to get fired, even if they fail.
In point of fact, the argument can be made that beyond that job security in the face of failure is just part of the problem. Because it is a governmental entity, it has been forced to follow absolutely ineffective and illogical procedures on a daily basis. Random searches don't work. Not being allowed to profile based on actual intelligence reports is not only ineffective, it's downright dangerous. While vetting of refugees is very important, the greater threat to our security is from the fact that the vetting of TSA and other airport employees is still sorely lacking.
Back to Pan Am and TWA, the reason why those two companies no longer exist is because they failed at their important job of keeping their customers safe. After Lockerbie, Pan Am lost massive amounts of business and never recovered. TWA fell because it was featured too often in news reports. Their planes on tarmacs around the world as they were being held hostage by hijackers sealed the company's fate. The same should have happened to United and American, after 9/11.
The free market would have done better at scrambling to provide increased security for air travelers in the US than the government ever could. At most, maybe they could have asked for some funding support for more screening equipment, and initial investment in training overhauls for existing airline security personnel and new hires. One thing is certain — if it had been the airlines dealing with coming up with a new and better plan for providing security, it would have involved taking pages from books where it was working. Instead, we ended up with a chaotic system that was taking bits and pieces of advice from multiple governmental agencies that had dropped the ball on the 9/11 attacks in the first place.
Once it became clear that 9/11 was preventable, albeit under the most optimal circumstances anyone could imagine, the American public should have become far more disillusioned with the government managing security. The ones who normally would have the most to lose should be in charge. Now that we've gone the route of government security, it's uncertain if we ever could go back to the point where catastrophic failures could simply cause bankruptcy and closure for the businesses involved. But, that remains the best option.
Private companies could get around the politically correct nonsense of random searches, and actually work on the basis of real threats. That is making the assumption that instead of screwing up security for air travel like it does now, our government would share threat information with private security entities within the commercial airline industry. Let people who would be fired, or go out of business be charged with keeping people safe, since it's more likely they would take the job seriously.
So, why mention this now? Our President is a businessman. People can debate his ability in that sphere, but that doesn't change the fact that he's made (and lost) billions of dollars during his life. He's also got the attention span of a gnat, and extremely thin skin. Add on the fact that he's addicted to Twitter, and we're dealing with the first time that Americans have a direct line to the Commander in Chief, albeit in 140 characters or less.
That very drunken sociology professor would chime in at this point, and it might sound like this: "You know, it wouldn't be a bad idea if we started tweeting at the idiot, and picked on his plans. Insult his prowess in business, since we know he's got issues with anyone calling his manhood into question. Start getting people to hammer him with ridicule over the fact that he's being a racist jerk, instead of actually addressing our security like a real businessman would!" Insert intermittent hiccups, and pauses as he would collect his bourbon drenched thoughts, of course.