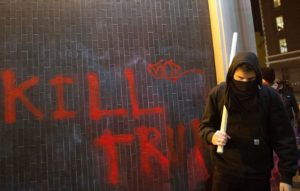 In our two-party dominated system, politics shift; sometimes subtly, sometimes seismically. What either side believes today, the other side may espouse tomorrow. The Republican Party once supported tariffs and isolationism; the Democrats once supported free trade and internationalism. Driven by changing attitudes amongst the electorate that were expressed through the God-given, constitutionally recognized rights to freely speak, assemble, and petition government for the redress of grievances, over time the parties either discarded or adopted these and other issues in their respective pursuits of a governing coalition.
What never shifted was both parties' shared America's political paradigm, namely that ours is an exceptional nation where constructive change was best – and solely – advanced through peaceable means.
This hard-earned lesson, ingrained during the fiery crucible of civil war, nonetheless has been tested at times in the 20th Century: turn-of-the-century Anarchism; the 1930s fascist and communist movements, which claimed to be politically transcendent to a failed old order that wrought the Great Depression; and the 1960s left- and right-wing radicalism. All these fevered, fringe movements refused — indeed, in many instances espoused — violence, including assassinations, bombings, rioting, burning, and looting. These right and left radical movements also shared a contempt for America's free republic, which was decried as antiquated and/or oppressive and imperialist.
But William Butler Yeats was wrong. The center did hold. All these violent radical challenges failed because they were abhorred and rejected by the American people; an abhorrence respected and reflected by their Democratic and Republican parties and representatives. (Unlike, importantly, many non-violent social movements; thank you, Dr. King.) Indeed, though today many think either party will condone anything for a vote, during past trying times of singular import was each party's willingness to condemn violence perpetrated by those who purported to align with its goals.
Continuing its lineage from Lincoln through William F. Buckley, Jr. and others who denounced the John Birch Society, during the peaceful Tea Party protests, Republicans of all stripes consistently demanded that they stay that way. Doing its job, the media facilitated the GOP's rejection of political violence and lawlessness by putting elected and party officials on the record in opposition to it; and further by attending Tea Party protests to detect and report on any instances of it.
Yet, prior to and through the present protests over President Trump, there has been a rise in political violence and lawlessness by the left; and in such violence and lawlessness, the desired effects of intimidation and the silencing of opponents. The strategy is as old and unforgiveable as sin itself: denounce your opponent to justify your violence.
In an immediate instance, Milo Yiannopoulos's speech at the University of California, Berkeley, was barred and marred by violence. In sad fact, this violence occurred after a craven university administration cancelled Yiannopoulous' speech. Last time I checked, free speech was still a constitutional right, yet there has been, at best, an ominous silence from the Democratic Party (and the media) regarding it. At worst, there have ensued attempts to explain away the indefensible or deflect the blame to Anarchist Black Bloc brigands or — honest to God — right-wing provocateurs.
This failure to condemn political violence and lawlessness is not only injurious to Americans. It is a crucible for the Democratic Party, which stands on the brink of forsaking its history and heroes; and the politically shared paradigm that America is an exceptional nation wherein change must be achieved through peaceable means.
It is not too late, since many of today's Democratic leaders are children of the 1960s, when their party and America also confronted opposing views of achieving change. From the radical left, the Weather Underground's Bill Ayers embodied, espoused, justified, and practiced the demand for political violence: "Kill all the rich people. Break up their cars and apartments. Bring the revolution home, kill your parents, that's where it's really at."
Yet, on the evening of April 4, 1968 — the day of Dr. Martin Luther King's assassination — a Democratic Senator who had felt the agony of political violence hitting home, spoke out against the madness of the times and Ayers:
We can move in that direction as a country, in greater polarization — black people amongst blacks, and white amongst whites, filled with hatred toward one another. Or we can make an effort, as Martin Luther King did, to understand, and to comprehend, and replace that violence, that stain of bloodshed that has spread across our land, with an effort to understand, compassion, and love.… What we need in the United States is not division; what we need in the United States is not hatred; what we need in the United States is not violence and lawlessness, but is love, and wisdom, and compassion toward one another, and a feeling of justice toward those who still suffer within our country, whether they be white or whether they be black.… (L)et's dedicate ourselves to what the Greeks wrote so many years ago: to tame the savageness of man and make gentle the life of this world. Let us dedicate ourselves to that, and say a prayer for our country and for our people.
In two months, Sen. Robert F. Kennedy was assassinated. In 1974, Bill Ayers dedicated his tract, Prairie Fire, to Sirhan Sirhan (and other practitioners of political violence).
But while the unapologetic Ayers, who felt he may not have done enough and still refuses to renounce political violence, went on to prosper at taxpayers' expense as a university professor in a country that he said made him want to puke, RFK won the day and the decades throughout the good and the "difficult times" that followed. The American political paradigm where change must be achieved through peaceable means — be they protests, petitions, speeches and, above all, elections — has held, thanks to Democrats and Republicans.
In these difficult times, if the peaceable American political paradigm holds again now depends on the Democratic Party's answer to the question: "Are you the party of RFK or Bill Ayers?"
Pray they, again, choose wisely.