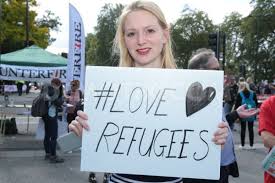 President Trump appears to be trying to wiggle out of a deal made by his much more humanitarian predecessor to accept 1,250 refugees from one of our staunchest allies: Australia. This is consistent with his anti-refugee policy, a policy which I agree with. However, I actually think this is an opportunity to simultaneously keep a promise to a loyal ally and test out a new experimental refugee policy. It's simple: settle these 1,250 refugees (and a few thousand more) in blue states, where they will be loved and cared for.
Now that our liberal celebrity superiors are publishing much funnier PSA's about how mean the new refugee policy is, it's clear that their hunger for sanctimonious self-satisfaction can only be sated by hundreds, no thousands, of refugees. We would be cruel to deny them this satisfaction. So here's the plan: we keep our promise to Australia and immediately grant these poor refugees and a few thousand more (let's make it 10,000 total) asylum in blue states. Let's start by building a refugee camp near Malibu and settling 1,000 refugees there. To ease the burden on the American taxpayer and give liberal millionaires ample opportunity to demonstrate their moral superiority, I propose a homestay program in which the refugees stay with the liberal millionaires, maybe in their pool house.
Those celebrities who have voiced particularly loud opposition to the refugee policy (yes, you, Susan Sarandon) should of course be given first preference for refugee homestay placement. Furthermore, the world must know how well this new program is working and how generous and wonderful the celebrity millionaires are for opening up their homes to these huddled masses. Therefore, the Department of Homeland Security will, on a weekly basis, release the names of all celebrity millionaires who agree to accept homestay refugees and publicly shame those who cruelly decline to accept them. DHS will monitor the new refugee camps and homestay program closely, including crime statistics and complaints from both celebrity millionaires and their new refugee guests.
A reasonable objection to this policy might be that cultural differences between third world (primarily Muslim) refugees and celebrity, California millionaires will create conflict. Pish posh! Surely, any cultural differences can be bridged by joint teach-ins. Celebrity liberals and refugees can learn about each other's culture together. For example, in one lesson, refugees can learn that in southern California, women walking around in public wearing revealing clothing are just expressing their sexual liberty. Celebrity liberals, in turn, can learn that some Muslim men express their sexual liberty by sexually assaulting and robbing scantily clad women, who in the Muslim tradition are almost certainly prostitutes who deserve no mercy. Mutual understanding will no doubt result.
I propose that this blue state refugee re-settlement program be instituted nationwide. Rich liberals from West Palm Beach to Manhattan to Hyde Park to Aspen to Georgetown (yes, Democratic Senators, you can participate too!) should be allowed to show their magnanimity, or hypocrisy (as the case may be). This way, America's best citizens can enjoy more culturally enriched lives; refugees will thrive; our allies will be happy; and those of us who are skeptical of third world refugees will be proven hopelessly racist and small-minded in our rape-free, little flyover hick towns. Everyone wins!