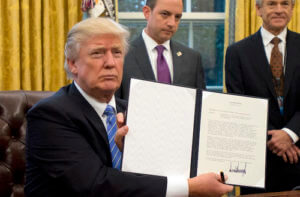 This weekend has seen protests from coast-to-coast, lawyers flooding airports, and media and politicians engaged in a to-the-death hyperventilation contest. Why? Because President Trump issued an Executive Order they don't like.
Sure, criticize the wisdom of the order, the ham-handed rollout, or its weak legal vetting, but Trump is using a tool employed to sweeping effect during Barack Obama's tenure. Conservatives consistently pointed out the extra-constitutional actions of President Pen And A Phone, but their warnings were laughed off as partisanship if not racism. Did these self-styled elites actually think a future President wouldn't use EOs in ways they didn't like? Of course not.
So where do these constitutional converts go from here? I proposed a truly radical idea in this weekend's column for the not-quite-center-right Arizona Republic:
I recommend everyone step back, take a few breaths from a paper bag, and ask why control of the government is so damn important to partisans of both sides.

A few years ago, protesters feared that President Obama would sideline school choice, kill off their existing health insurance and make them violate their traditional beliefs. Today's protesters fear President Trump will defund public schools, take away their health insurance and persecute LGBT citizens.

Despite being on opposite sides, protesters on the right and left can end their fears the same way. If you're afraid that the federal government will ruin your life, reduce the power of the federal government.
Our Founders wrote the Constitution to ensure than government would be filled with checks and balances. Not only in the power relationship between Congress and the President, but also between Washington DC and the states. America wasn't designed to orbit around the whims of an imperial capital. Instead, all decisions without national import were to be decided in statehouses, county seats, and local townhalls.
Though today's leaders consider themselves far smarter than James Madison, et al., they don't possess a fraction of their wisdom. Instead of ignoring the Constitution while your guy's in the Oval Office and suing over it while the other guy's in, respect it as the law of the land for both.
Then, your day-to-day life won't be much effected by which party is signing orders in the White House.