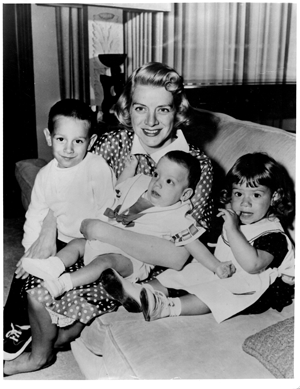 Rosemary Clooney did not have an easy life. There was a contentious marriage to actor José Ferrer and a bitter divorce in 1961, remarriage in 1964 and re-divorce in 1967. A year later she was with Bobby Kennedy at the Ambassador Hotel in Los Angeles the night he was assassinated. She spiraled into drug addiction and mental illness quickly afterward.
Her career, which she described in her autobiography as just being "the girl singer," was effectively over. That is, until she got a phone call from an old friend. In 1976 Bing Crosby planned a 50th anniversary in show business tour and he wanted Rosemary at his side. She was going to need support. Her oldest son was an accomplished drummer. Could he play in the band? Absolutely.
And so, Miguel Ferrer, aged 21, found himself playing jazz from Pasadena to the Paladium. After his mother's death in 2002 he told The Cincinnati Enquirer:
I played with her from about the time I was 18, and I conducted for her many times, too. There was not a night I didn't want to pinch myself and say, "Look what I'm doing!' Some nights she'd come off the stage and I'd say, 'You really sang great tonight.' And she would compliment me. We were great friends and colleagues. It was amazing.
When Bing died in 1977 he decided to switch careers. His father suggested acting and he threw himself into it with all his might. It led to movie roles in Robocop, and network series gigs like Twin Peaks, Crossing Jordan, and most recently, NCIS: Los Angeles. Miguel Ferrer passed away today at age 61 losing a long battle with throat cancer.
When his mother died, Ferrer was in his second season of Jordan. They wrote a scene in which his character, Dr. Garret Macy was sitting alone in his office at the end of a particularly difficult week listening to an old jazz LP. Unbeknownst to him, in post production they replaced the song he was listening to with a track Rosemary recorded in 1964, Black Coffee.
I'm moonin' all the mornin'

Moanin' all the night

And in between it's nicotine

And not much heart to fight

Black coffee

Feelin' low as the ground

It's drivin' me crazy

This thinkin' 'bout my baby

Might maybe come around

Come around
Baby's come around tonight… and mama's little boy has gone home.