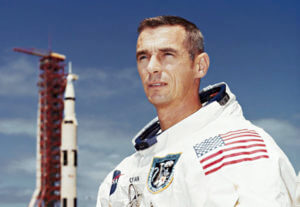 We got sad news Monday that legendary astronaut Eugene Cernan has died. Cernan was the commander of Apollo 17, which flew in December 1972. And as the last member of the mission to reboard the lunar module Challenger, Cernan was the last human to walk on the Moon.
Apollo 17 wasn't Cernan's first trip to the moon either. He was also on board Apollo 10, which didn't land, but descended within eight nautical miles of the surface. Before NASA, Cernan was a naval aviator, flying FJ-4 Furys and A-4 Skyhawks. He retired from the Navy in 1976 with the rank of Captain.
Before climbing aboard Challenger for the return trip, Cernan's last words were "[A]s we leave the Moon at Taurus–Littrow, we leave as we came and, God willing, as we shall return, with peace and hope for all mankind. Godspeed, the crew of Apollo 17."
He was 82.
---
This article is a preview of The Daily Shot, Ricochet's quick, smart, fun, morning e-mail to catch up on today's big events — and get a preview of what's coming up tomorrow. Subscribe today!