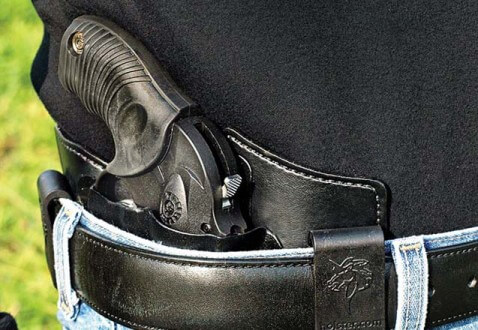 …training, practice, and following the rules of gun safety make you a responsible gun owner.
Whether it was driven by a fear of a gun-grabbing Chief Executive or the fear of more crime in their communities, Americans bought guns in record numbers. As a result, 2016, like 2015 before it, was a banner year for gun sales in the United States.
As I've said before, buying a gun to protect yourself and your loved ones is one of the most grown-up decisions you can make your life because by buying a gun, learning how to use it, and keeping it handy, you are acknowledging that it is you yourself who will be the "first responder" to a crime, rather than a law enforcement officer.
Of those three steps (buying a gun, learning how to use it, and keeping it handy), the easiest one by far is buying a gun. Learning how to use it and keeping it ready for use in an emergency are, by far, the harder tasks, and performing those tasks are what changes someone who buys a gun into a responsible gun owner.
Guns by themselves are not a defensive tool, anymore than a car that doesn't get driven is a means of transportation or a piano that never gets played is musical instrument. Cars and pianos required a skilled, trained operator to do what they're supposed to do, and so it is with guns as well: A gun, in and of itself, provides no means of protection to its owner. It is only through skill and practice that a gun becomes an effective defensive tool.
As with everything in life, there are some caveats to what I just wrote. There are many occurrences when just announcing that fact that the bad guy was facing someone who was armed was enough to stop the threat, and that in context is a very good thing because it solved the problem of facing the threat of deadly force without having to use deadly force.*
We can't count on the threat of lethal force to be enough to keep ourselves safe, though, which is why learning how to use your newly-acquired firearm is so important. You will not rise to the occasion if you need to defend your life, you will fall back to what you can perform without conscious thought.
That is why regular, consistent practice with your gun is so important. If you've been driving a car for any length of time, you don't think about how we drive a car, you just do it, and attaining a similar level of unconscious ability is our goal with our firearm. For the purposes of rest of this article, I'm going to assume you own a defensive pistol like a Glock 17, 1911, service revolver, or similar and want to use that as your primary defensive firearm. Here are three simple commitments to make this the year that will have a dramatic effect on your ability to hit the target on-demand with your pistol of choice.
Commit to Dry Fire
My friend Claude Werner has a program called "1000 Days of Dry-Fire," and it is exactly that: Dry-fire practice, in one form or another, for 1,000 straight days. That is a little hardcore for even me, but I have found that just a few short minutes of dry-fire practice a few times a week can have a dramatic effect on your accuracy. There are many, many videos and blog articles out there on how to safely conduct dry-fire practice in your own home, but one of the best and most concise guides I've found is this short video from Doug Koenig, a top-level competitive shooter.
The only thing I'd add to this excellent video is to remind you to make sure you are gripping your gun as hard as you can throughout your practice time. A good, solid grip does wonders for controlling recoil and taming the tendency to jerk the trigger and pull the sights off-target.
Commit to Range Time
It's important to remember that dry-fire is the means to an end, not the end itself. As an example, during a recent training session with a friend of mine, I found out somewhat to my surprise that I had developed a bad habit of trying to anticipate and correct for recoil when I was shooting, which was resulting in a number of my shots missing over the top of the target.
Whoops.
I had been dry-firing quite a lot prior to that training session, and while that was doing wonders for my trigger press and sight alignment (two cornerstones of accurate pistol shooting) it wasn't getting me used to the physical sensation of pulling the trigger and having my gun go "bang!" in my hands. The lesson I learned from this is that dry-fire is the beginning, not the end, of an effective practice routine.
Commit to Training
That problem I had with anticipating recoil? I was able to diagnose what was going on because I had someone nearby who knew something was going wrong, knew how to diagnose the problem, and knew how to correct it, which is what a good firearms trainer can do for you. Even though I've had hundreds of hours of firearms training at this point, I have made the commitment to attend at least one training class a year. Last year, it was a competition-oriented class with top-level shooter Bob Vogel, and this year, I'll be attending a class on the legalities of self-defense taught by noted expert Andrew Branca and taking a four-day MAG 40 class taught by the one and only Massad Ayoob.
One of the reasons gun ownership is growing across this country is because guns are fun to shoot. It's fun to spend an afternoon on the range punching holes in things, but punching holes in things better and faster than the other people around you? That's even more fun. Whether you chose to improve your marksmanship to protect your family or improve yourself to out-shoot your friends, you'll find that the skill that comes with increased marksmanship is worth the time and effort put into a regular, structured practice regimen.
---
* This is where a lawyer would be a better resource to help you learn more about the legalities of how and when to use lethal force than someone like me, so go do that, ok?