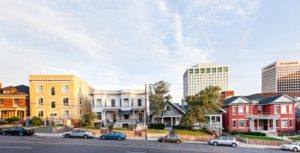 Housing policy should be at the heart of America's economic policy debates. Housing was a catalyst for the Financial Crisis. Housing costs constrain America's most productive cities and regions. Housing tax breaks distort the economy and reduce government tax revenues by at least $70 billion annually. If you're interested in the US economy growing faster in the next decade than it has in the past decade, then smart housing policy would be a key accelerant. Housing reform is a key structural reform to creating sustained fast growth in the decades to come.
Of course given that housing is central to people's lives, big changes would inevitably mean big political controversy. So I totally get why Hugh Hewitt is concerned that the incoming Trump administration is considering capping the mortgage interest deduction. Hewitt makes a number of arguments in his Wall Street Journal op-ed from the other day: (a) the value of every US home would immediately fall by 10-15%; (b) it's unfair to change the rules in the middle game; (c) it would be an unfair and shocking surprise since no politician ran on this issue; (d) the political fallout would consume the GOP – especially in high tax states – and destroy its chance to "realign politics" and get more important things done, such as filling judicial vacancies and rebuilding the military.
So how to address a terrible misallocation of national resources in a way that is seen as fair and avoid a political conflagration? A few thoughts:
While it would have been great for the 2016 campaign to have been a forward-looking and serious one — addressing a variety of issues to create balanced, sustained growth in a modern economy—instead we got a retrograde one focusing on all manner of walls. But better late than never to focus on substantive issues, including housing.
Most of the serious proposals, right and left, are a bit more complicated that just cold-turkey capping mortgages at some lower level. Here is one version, from my AEI colleague Alan Viard:


I propose to replace the mortgage interest deduction with a 15 percent refundable credit … available to all homeowners, including those who claim the standard deduction and those with no income tax liability. The credit is limited to interest on $300,000 of mortgage debt (in 2013 dollars), with no tax relief for mortgages on second homes or on home-equity loans. The dollar limit is indexed to the consumer price index (CPI) in the same manner as the bracket endpoints and other dollar values in the tax code. Taxpayers with existing debt are allowed to claim 90 percent of the current-law deduction in 2014 on that debt, declining 10 percent per year thereafter, with the option to switch to the credit at any time.

And why do this? Again, Viard:

There may be good economic grounds, and there is certainly strong political support, for promoting homeownership, but there is no case for subsidizing bigger or more-expensive homes. Yet, the current tax treatment is more geared toward the latter objective, offering the largest benefits to taxpayers in the highest brackets and providing more-generous treatment to taxpayers who itemize than to those who claim the standard deductions. Indeed, the current tax policy may actually impede homeownership for taxpayers of more modest means because the preferences for high-bracket itemizers drive up the demand for homes and boost home prices.
A couple more things: There are a number of options as you transition from one system to the other, including to grandfather existing mortgage debt and phase in a cap gradually over time. Also, estimates of sharp housing price declines may be overstated.
If you are worried about the finanical hit to upper-middle class and wealthier Americans, don't forget the large tax cuts being promised by the president-elect.
Even if you accept the plan as briefly outlined by Treasury Secretary-elect Steven Mnuchin, it would only affect a small number or borrowers, as CNBC's Diana Olick notes:


For those who do itemize, here's how the math works: Let's say you have a $500,000 30-year-fixed mortgage at 4.5 percent, and you're in the 33 percent tax bracket. In the first year of your loan, the deduction saves you just more than $10,000 in taxes. If the Trump administration caps deductions at even $100,000, as Mnuchin suggested, that would not hit most borrowers because on that $500,000 (which is more than most loans in general) the total annual interest payment was about $23,000. Granted, homeowners may have other deductions, medical expenses, charitable, religious or otherwise, but most would not make it to $100,000 even with the mortgage.
Are we also not going to reform Medicare and Social Security? Because it supposedly changes the rules of the game, at least for some people. That seems like a recipe for policy paralysis.