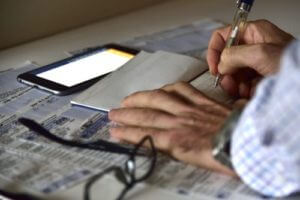 My top public policy priority would not be big, fat tax cuts for the superrich. (At the same time, I don't want to see marginal rates drift ever higher.)
Other sorts of pro-growth policy are more relevant right now, including regulation and education. But what would be the economic case for lower rates for the 0.1%?
One perspective can found over at the American Economic Association blog where Chris Fleisher features a Q&A with Carnegie Mellon University economists Laurence Ales and Christopher Sleet. Their recent American Economic Review paper argues that the the marginal tax rate on top earning CEOs should be closer to 20% vs. the current top tax rate of 40%. Here's a bit from the exchange:
AEA: It's a popular opinion to think that these top earners, for whatever reason, don't pay their fair share. What did you find with your paper?

Sleet: We found that much lower rates are desirable. We're talking about top tax rates of 20 to 30 percent. But it would depend on other aspects of tax policy. …The impact of taxing a CEO at a high rate, or higher rate, it has a relatively small effect in percentage terms on the profits of a firm. But because these profits are very very big, that translates into a very big dollar effect. And that impacts potentially tax revenues because they are taxable.

AEA: I was wondering if you could explain a little more about how the actions of a CEO, as it relates to however much they're taxed, could have spillover effects and could really enhance the firm's profits if they were able to keep more of the money that they earn.

Sleet: CEOs are exerting effort, they're exerting time. It's well-documented that many CEOs work extremely long hours and they are making high-level decisions. …We're talking about deterring through taxes discouraging CEOs from putting in the extra effort that will lead them to make better decisions within their business that will lead to more profits.

Ales: Even if their response is really tiny, the fact that their effort is multiplied by the scale of the corporation, we quickly map that small change in effort in big change in profits and big change in tax revenues.
Keep in mind here that while the economists would tax CEOs less, they would tax corporate profits more. But what I find interesting is that they describe what many critics on the left deride as "trickle-down" economics. From Sleet: "It's possible that CEOs through good decision making, end up creating more jobs by expanding their businesses, and that's going to benefit the people that you're describing directly, through employment opportunities, through wages and incomes."