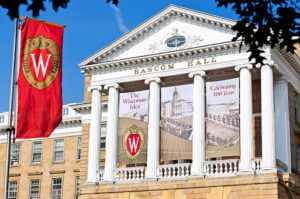 Radical academia strikes again at the University of Wisconsin at Madison, and an angry Republican state assemblyman has had enough.
We are all aware that the curriculum of many universities has little to do with education, and everything to do with Leftist propaganda. This course is part of a long list of attacks on undergraduate education, and yet little has been done to stop the damage.
Damon Sanjani designed this course called "The Problem of Whiteness" as part of the African Studies Department curriculum:
The course explores "how race is experienced by white people." But it also looks at how white people "consciously and unconsciously perpetuate institutional racism. The description reads, "Have you ever wondered what it really means to be white? If you're like most people, the answer is probably 'no.' But here is your chance! Critical Whiteness Studies aims to understand how whiteness is socially constructed and experienced in order to help dismantle white supremacy."
David Murphy is a state assemblyman and is furious about the university's including this course, saying that taxpayers "are expected to pay for this garbage." Murphy chairs the assembly's committee on colleges and universities, and criticized the premise of the course, that people are racist. He also stated that the university should discontinue the class to protect taxpayer funds. Gov. Scott Walker disagreed with Murphy's idea to withhold funds if the class isn't discontinued.
To provide further context for Sanjani's objectives, Murphy included some of Sanjani's tweets in a news release—
One tweet is a picture of a CNN breaking news report about police officers being shot in Dallas. "Is the uprising finally starting?" Sanjani said. "Is this style of protest gonna go viral?"
Sanjani is a Ph.D. candidate at Northwestern University. The Washington Post says, "In a statement, the university defended the course and stressed that it was elective, not required, and that it was not designed to offend individuals or single out an ethnic group.'"
Really?
The current state of academia is disheartening. We aren't teaching college students about the great ideas, the history of our nation or critical thinking. We have acquiesced to an agenda of propaganda, hand-wringing, the racism of the left, and refusing to empower students to follow lives of independent thinking, service and productivity. These are the country's future leaders.
So what do you think of this course? What do you think about Mr. Murphy's protest and proposal for action? What about Gov. Scott Walker? What's your reaction to whether Sanjani should be teaching this course after reading his tweets? Do you have any bright light to shine on the future of college education?