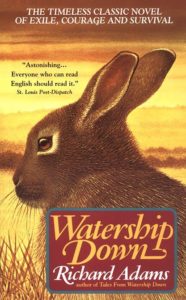 The family of Richard Adams reports that he died Christmas Eve at the age of 96. Adams is the author of Watership Down, his first book, published at the age of 52. He wrote a small number of novels including The Plague Dogs, of which that and Watership Down were made into animated features. The announcement of his passing included a quote from the end of his most well-known work:
"It seemed to Hazel that he would not be needing his body any more, so he left it lying on the edge of the ditch, but stopped for a moment to watch his rabbits and to try to get used to the extraordinary feeling that strength and speed were flowing inexhaustibly out of him into their sleek young bodies and healthy senses.

"'You needn't worry about them,' said his companion. 'They'll be alright – and thousands like them."'
Personally, I remember reading this book when I was in the fifth grade, and it has stayed with me ever since. There are few works of fiction that have held such a place as I've grown. He will be missed. He has had a full life.