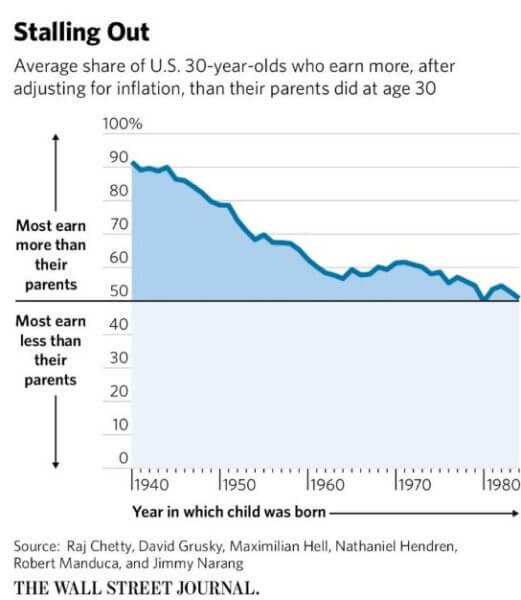 In 2014 researchers had some reassuring news about whether America was still the Land of Opportunity. As the New York Times characterized the findings, "The odds of moving up — or down — the income ladder in the United States have not changed appreciably in the last 20 years." So a pleasant surprise — of course it could be better — on the issue of relative social mobility. Stable was the new up.
But what about absolute mobility? It's a slightly different question. Do kids earn more than their parents? Here, according to new research from the same group, the findings are disheartening. From the Wall Street Journal:
Economists and sociologists from Stanford, Harvard and the University of California set out to measure the strength of what they define as the American Dream, and found the dream was fading. They identified the income of 30-year-olds starting in 1970, using tax and census data, and compared it with the earnings of their parents when they were about the same age. In 1970, 92% of American 30-year-olds earned more than their parents did at a similar age, they found. In 2014, that number fell to 51%. … The percentage of young adults earning more than their parents dropped precipitously from 1970 to about 1992, to 58%, found Mr. Chetty and David Grusky of Stanford University, Maximilian Hell, Nathaniel Hendren and Robert Manduca of Harvard University and Jimmy Nrang of the University of California at Berkeley. The percentage steadied for around a decade and plunged again starting in 2002, according to the economists.
The numbers were even worse for men, especially those from the industrial Midwest and thus more exposed to Asian trade and advancing automation. Superfast — and super-unlikely — growth might reverse the trend, say 6% year after year. Yet even growing nearly 4% annually — still pretty aspirational — "would only increase the percentage of children able to outearn their parents to 62%."
High-profile findings like these are sure to attract much attention from policymakers and fellow academics. But I also found fascinating how the researchers propose improving absolute mobility:
Mr. Chetty and Mr. Hendren urged the U.S. to take greater measures to reduce income inequality and make sure more of the benefits of economic growth go to the middle class and the poor. Such measures can include increasing payments to the working poor under the earned-income tax credit, improving education, starting with elementary schools, and helping poor families move to higher-mobility areas. "You need to improve the education and the environmental opportunities for kids while they are growing up," said Mr. Hendren.

Revamping the tax code so that it taxes the wealthy far more heavily and gives bigger breaks to those in the middle class and below could also work, said Mr. Chetty, but he doesn't advocate that strategy. "It's actually not clear to me that a more progressive tax code is necessarily the solution," Mr. Ready said. "Many think of the American Dream as 'earning' more than their parents, not getting more transfers from the government than their parents."
Opportunity over redistribution. This really isn't about hedge fund managers and CEO pay and out-of-touch Silicon Valley founders. People want a job, not a check — though this doesn't rule out things like wage subsidies or spending that enables work such as relocation assistance. An important point, one that should not be lost on those who see the universal basic income as a key part of their "post-work" equality agenda.