Skipsul's recent post on the nefarious role that Non-Governmental Organizations (NGOs) sometimes unwittingly play in the third world is an excellent read and echoes other recent articles critical of NGOs as a whole. (A Jerusalem Post piece called them the "new feudalism"). As an American expat working for an NGO in Iraq, I felt somewhat compelled to respond, not out of any desire to "defend the herd," but simply to offer a little insight into their nature, both good and bad. I'll restrict my commentary only to the areas I've worked in or observed personally. I would suspect some of what I say might not be relevant or applicable to NGO work outside of Iraq.
Important to note, NGO work is broadly divided into two often mutually exclusive parts; advocacy and humanitarian work. Most NGOs exist either to advocate and lobby for a particular issue or to provide a particular humanitarian service. You might assume they do both as a matter of course, but with rare exceptions, most NGOs stick to one or the other. The reasons for this are quite simple and each have their tradeoffs. Advocacy work is inherently political in nature. Either you're lobbying for local/foreign governments do do something (give money, provide assistance, etc) or you're lobbying for local/foreign governments to stop doing something (genocide, discrimination, neglect) Since local governments often bear some responsibility for the disaster being addressed in the first place (Iraq especially), advocacy NGOs can find themselves at loggerheads with local politicians. And believe me, you will never find a more petty and conniving politician than the ones this country produces. As such, advocacy groups are usually reluctant to delve into humanitarian work because these efforts would be hampered by their too-public profile.
For the strictly humanitarian NGOs, you see the mirror dynamic. They keep their heads down, focus on their work, and stay out of the morass of politics. This allows them the freedom to go about their business with minimal interference from local authorities. The unspoken and unwritten agreement is that if they don't meddle in politics, politics will be less likely to meddle with them.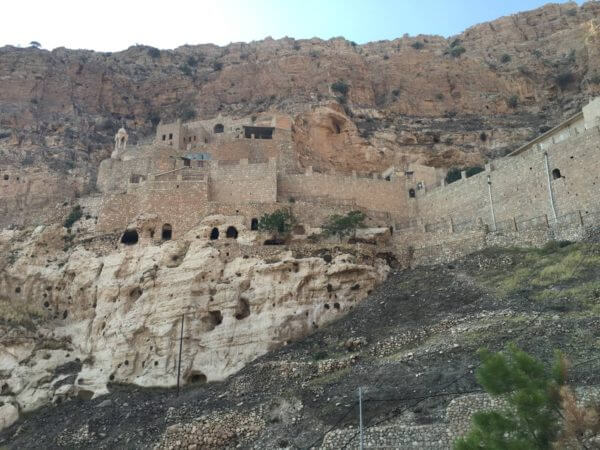 Rabin Hormizd in Alqosh, Iraq: Assyrian Christian monastery built around 640 AD
Meanwhile there are some NGOs that try to have it both ways and advocate publicly while engaging in humanitarian work. This requires a careful threading of the needle, and the results can sometimes be disastrous. As an example, one NGO here made a public post on social media criticizing a regional party boss earlier this year for some truly appalling remarks of his. When the NGO staff went out to work in the refugee camps the next time, they found that all of their permissions had been terminated, and their work here basically ceased for the summer. But such are the risks when engaging in advocacy and humanitarian efforts. There is a constant question of balance; do you speak truth to power when the community you serve is demanding an impassioned defense against something egregious? Or do you let it pass, maintain your ability to work, but lose the confidence of the people you are claiming to give a voice to? 
There is a common perception among conservatives that NGOs are nothing but liberal trojan horses, using the cover of humanitarianism to advance some stealthy big government agenda in the third world. It's true that expats who work in NGOs are almost uniformly liberal (it would be awfully lonely if I had conservative expat drinking parties). But I assure you, on the ground, their concerns tend to much more parochial in nature than ideological. My politics are worlds apart from just about every foreigner I work with, but it has precisely zero bearing on any of the work we're involved in (interestingly, I have much more in common philosophically with Iraqis I work with than Americans, but that's for another story). 
The truth is that in places like Iraq, NGOs really do fill a gap in services that would otherwise not be provided by the existing state authority, whether because of corruption or simple incompetence. If you have never spent any significant time living in a borderline-failed state, you cannot begin to imagine the malfeasance and capriciousness that marks the local political machine. Denying basic services, education, or freedom of movement to whole swaths of people based on religion or tribal affiliation; scandals and abuses that would be front-page news in the US are in Iraq just called "Thursday." 
Regardless of whether an NGO is engaged in advocacy, humanitarian work, or both, there are a few other characteristics that can be indicative of their effectiveness. As a general rule, the less specific an NGO's mandate is, the less it does. Resources are finite for organizations big and small and money goes to the priority as defined by each charity. If there is no priority or the criteria is too vague, then the money is diluted. Also, NGOs who leadership comes from the same community they are serving, whether local or from the diaspora, tend to have a better track record than those made up exclusively of foreigners. Human nature being what it is, most people are slightly more hesitant to swindle those closest to them than total strangers, so there is a built-in correcting mechanism at work. Unsurprisingly, the most effective organizations assisting Assyrians Christians and Yazidis are themselves staffed and lead by Assyrian Christians and Yazidis.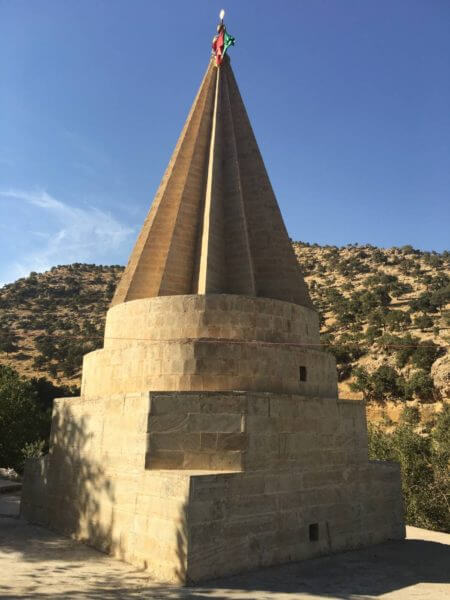 Lalish: Yazidi pilgrimage site located in Iraq's Nineveh Governate 
This isn't to say that NGOs are immune from corruption and malign influence. They aren't. Local governments will co-opt them whenever they can and especially when the foreign staff have little understanding of the political and cultural dynamics. Authorities will tell all sorts of tall tales about how the NGOs are mandated to get approval from the government for all hires or maintain a quota of local staff (from a government-approved pool of applicants); none of which is true. The motivations for authorities to do this is obvious; install cronies in positions of power and also for the intelligence services to keep tabs on the activities of foreigners. 
NGOs also engage in their own blundering stupidity without the prodding of local authorities. The most common such example I've seen is the concealing of motives. I don't know if it's something peculiar to the region, but for whatever reason, northern Iraq in particular is a veritable pilgrimage site for savior complexes, false messiahs, and snake oil salesmen. Painful as it is to say, the evangelical charities tend to be the most prone to causing mischief with the best of intentions. I can think of multiple examples of religious groups ostensibly engaged in strict humanitarian work, but who were later revealed to be subtly engaging in proselytizing. The evangelizing itself was not the issue, but more troublesome was the founded perception that humanitarian services were being dispensed with in exchange for listening to sermons, attending religious ceremonies, distributing Bibles, or even converting. I know these people had the best of intentions, but to the groups they were targeting, it was downright predatory. Keep in mind that we are not talking about victims of flood or famine, but people who have been raped, tortured, and targeted for extermination because of their "pagan" beliefs. The fact that these missionaries did not appreciate this fact was nothing short of astounding.
NGOs are not, as some might suggest, a modern, more savory form of colonialism. If anything, local governments love NGOs for the milking potential they represent, whether it's nepotism, spying, or the infusion of foreign money into the economy. Indeed, the political class in backwaters like this can't help but let the mask slip whenever a longtime victim group is seeking to rebuild on their own or move out of the country altogether; the response boils down to, "Don't do that! Give us money instead! We'll take care of them!" 
This fact has left with me with a recurring question during the better part of a year spent here; does the presence of NGOs merely encourage corrupt governments not to reform? Might the governments be forced to account for their behavior if NGO support to their citizens vanished tomorrow? Knowing the culture of Iraq and its history, I lean towards answering with a resounding no. The crime families that masquerade as political parties here would not change an iota if there was an absence of foreign entities to help the people. Whatever services currently being provided by NGOs would simply not be provided in their absence.
There is nothing inherently non-conservative about the idea of NGOs. As a Burkean, I fully support free associations of people collaborating to raise money for a cause that suits their fancy. NGOs often have the capacity and willingness to tackle challenges that local authorities are too incompetent or too overwhelmed to be bothered with, be it providing education, infrastructure rebuilding, trauma support, etc. And if richer countries are going to continue providing foreign aid to poorer ones, well then I'd much rather see them route the money through charities like these than through the kleptocracies that run these regimes. Ultimately, NGOs are an imperfect solution to an intractable problem, but the good ones provide immense relief in the absence of stable governance.