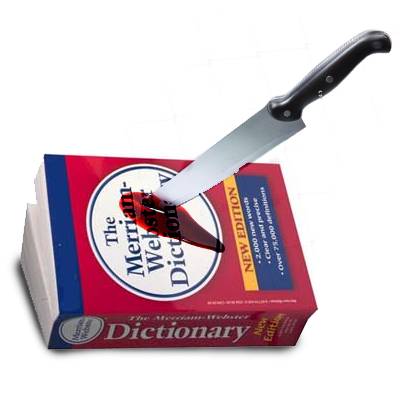 Every year about this time folks in both the press and academia like to publish a list of words and phrases they want to see retired in the New Year. It's usually a meaningless exercise since these sort of things tend to have a natural life cycle of their own anyway.
My parents were firmly of the WWII generation and yet I never heard them refer to anyone as "Gate" or being "a real hepcat." In my own time I remember when things were "far out" and/or "groovy" and can recall asking the musical question, "Sock it to me?" The language breathes and words and phrases ebb and flow.
That being said, I believe the English language to be a marvelous thing that can convey things with an unbelievable amount of preciseness when used correctly. I get semi-distressed when perfectly good words start to drift. For me, this year's candidate is "disqualify" and all of its derivatives.
In its new usage "disqualifying" has become the new shorthand for "This person believes in something or did something that I don't like." Suddenly we've all taken upon ourselves the mantle of being life's super referee handing out red cards left and right like they were Halloween candy. Everyone has taken time to DQ someone this political season and for a variety of reasons.
And it makes no difference where you stood on the political spectrum or who you were backing and why. Donald Trump, Hillary Clinton, Evan McMullin and yes, even Jill Stein were all "qualified" to be President, in that they all met the specific requirements laid out in the Constitution. Now, if you want to make the case that they are unfit, by all means do so. Besides, unfit saves you a lot of Twitter space.
Speaking of making your case, my choice for phrasing this year is exactly that, "Making the 'X' case for…" Our side has been particularly egregious on this one. Everywhere you turn somebody is making a case. "The Conservative Case against Donald Trump." "The Conservative Case for Donald Trump." "The Conservative Case against James Mattis." "The Conservative Case for Hillary Clinton." It goes on and on and on and on, not like the Energizer Bunny, but like an 18-year old virgin on Viagra. At some point the friction just becomes too much.
Bad ideas, like electing Hillary Clinton, do not become good ideas just because you slap the word "conservative" on it. No, it's your idea, so own it. Besides, "a case" is also a specific legal term centering on a point of law. Everything else is just an argument.
So there you have it. Two points will be awarded to the first person in the comments who makes the case that I am totally disqualified to write this post in the first place.