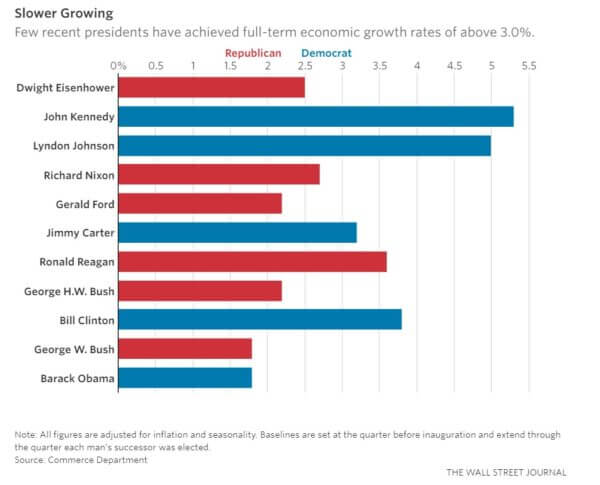 I certainly get the skepticism — bordering on mockery — toward this statement from Steven Mnuchin, Donald Trump's Treasury secretary pick, on CNBC yesterday: "Let me just say our most important priority is sustained economic growth, and I think we can absolutely get to sustained 3 to 4% GDP and that is absolutely critical for the country."
In response, ace Washington Post columnist Catherine Rampell tweeted: "sustained 4% growth, guys! got a bridge to sell you, too." Indeed, I offered plenty of snark during the GOP presidential primary season when Jeb Bush made hitting a 4% growth target a key campaign policy plank. This blog post, for instance: "Why Jeb's 4% growth goal might require the Singularity."
My point — and this is non-controversial — is that slowing labor force growth, due to demographics, means getting fast growth is a lot harder than it used to be. As economics blogger Bill McBride has put it, "2% GDP growth is the new 4%." According to the Wall Street Journal, the last US president to achieve 4% growth or more over his term was Lyndon Johnson, with 5%, although Bill Clinton was close at 3.8%. Indeed, Clinton was the last to achieve even 3%, as the above chart shows. Forecasters like the CBO assume 2% growth at best as far as the eye can see.
Without much, much faster productivity growth — and official stats show it's been especially weak since the Great Recession — the US economy will be stuck in a "new normal,"slow-growth mode, as this McKinsey chart illustrates: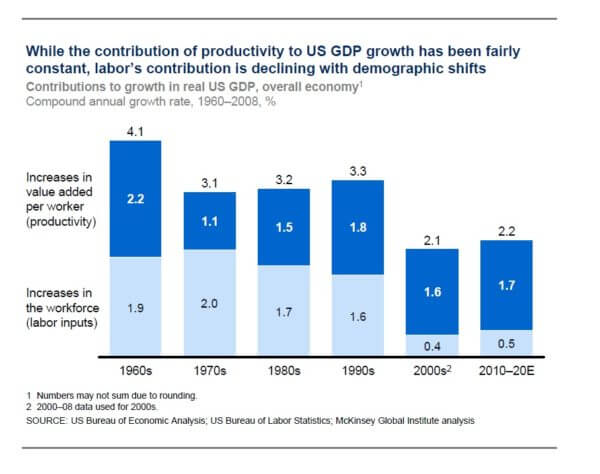 Given all that, I think sustained growth of 4% is more aspirational than actually achievable — maybe unless you assume productivity growth is currently higher than government figures suggest. But even so, something more like 3%-ish might just be doable. We should sure try. Who would argue current economic policy is optimal for growth? McKinsey recently outlined five policy areas where action, it argues, could "collectively raise GDP growth to 3 or even 3.5 percent" —levels not seen since the 1990s. From McKinsey: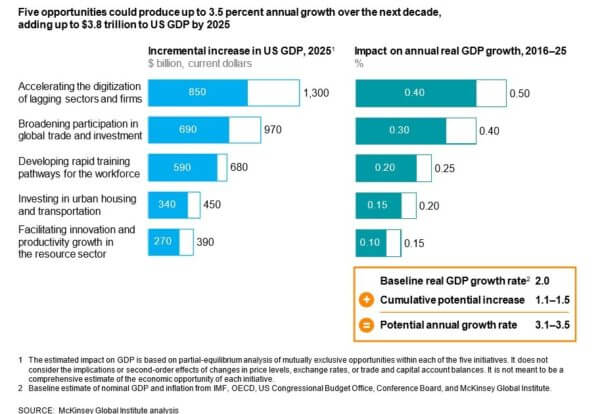 One key here is that boosting growth requires a lot more than just a boffo tax reform package. It means a broad portfolio of policy actions. But boosting innovation-driven productivity gains and labor force participation should be paramount goals for policymakers.