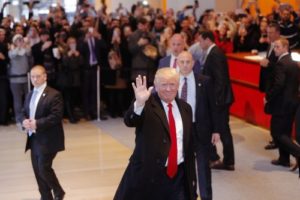 The incoming Trump administration doesn't seem the sort much concerned about "consensus" economic opinion or what so-called experts think. For instance: One recent survey of top economists found 93% disagreed with the notion that Trump's 100-day economic plan would help middle-class workers. ("Even if we no longer import from and offshore to China and Mexico, manufacturing jobs won't come back. If they did, they would before robots," opined one.)
But you take your friends where you can find them. Such as at the OECD, the rich economy think tank. In a new report, it had nice things to say about Trumponomics: "The new Administration will begin implementing its policy priorities next year and in this context the fiscal stance is projected to become more expansionary as public spending and investment rise, while taxes are cut. This will provide a boost to the economy, particularly in 2018."
Not bad! A couple of thoughts here. First, keep in mind that this economic boost is more about near-term stimulus rather than lifting long-term growth potential through supply-side structural reform. The latter would only show up later. Still, faster growth would be welcome, all else equal. The OECD expects the likely size of the stimulus would boost US economic growth to 2.3% from 1.9% in 2017, and to 3% from 2.2% in 2018. Hardly the hypergrowth Trump has promised, but better.
Second, there are other possible ways this all could play out. The OECD offers plenty of caution, with monetary and trade policy central:
Risks to the outlook are sizeable. The fiscal stimulus of the new Administration may be bigger or smaller than assumed in the projections. Labour market slack may evaporate more quickly and wage growth could rise more rapidly than anticipated, stoking stronger inflationary pressures and requiring the Federal Reserve to react more strongly.

On the other hand, weakening external demand and further appreciation of the dollar could create a drag on net exports and depress investment, creating disinflationary pressures and requiring macroeconomic policy to become more accommodative. Disruptions to international trade, including breaking global value chains would hurt growth. There are also risks of financial market turbulence as the Federal Reserve begins tightening.

In particular, as policy in other major currency areas is projected to remain very accommodative, the divergence with the United States could unleash unpredictable market reactions and financial flows.
As for the details of Trump's infrastructure, I recommend this analysis by David Levinson.