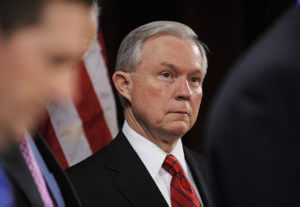 Will we finally be eliminating or at least holding accountable sanctuary cities in this country? Will Jeff Sessions, as our new US Attorney General, be able to stop this blatant violation of federal law? It won't be easy.
For background, sanctuary cities began to form in the 1980s; in 1996, however, Congress passed a law known as the Illegal Immigration Reform and Immigrant Responsibility Act (IIRIRA), which required local governments to cooperate with DHS Immigration and Customs Enforcement (ICE). Unfortunately, hundreds of communities have ignored the law or adopted "sanctuary policies" in defiance of it.
A 2006 Congressional Research Service report listed 32 counties and cities with explicit sanctuary ordinances. A number of cities have adopted similar resolutions since then, including Berkeley, Oakland and East Palo Alto.
To show the magnitude of the problem, the Texas Tribune conducted a yearlong study on the topic of border security and immigration. They determined that local jails around the country failed to hand over illegal immigrants 18,000 times. Many of those apprehended were known as "declined detainers"; detainers are requests from federal immigration authorities for a local jail to hold non-citizen inmates subject to removal — usually booked on crimes unrelated to immigration violations — for up to 48 additional hours so federal officials can take them into custody.
Since there are both formal (laws established) and informal sanctuary cities, it's difficult to determine how many there actually are. Jessica Vaughan at the Center for Immigration Studies reported the following:
Sanctuary jurisdictions remain a significant public safety problem throughout the country. About 300 jurisdictions have been identified by ICE as having a policy that is non-cooperative and obstructs immigration enforcement (as of September 2015). The number of cities has remained relatively unchanged since our last update in January 2016, as some new sanctuary jurisdictions have been added and few jurisdictions have reversed their sanctuary policies…

The Department of Justice's Inspector General recently found that some of the sanctuary jurisdictions appear to be violating federal law, and may face debarment from certain federal funding or other consequences.
Sanctuary city policies were highlighted in July 2015 when Kate Steinle was shot and killed in San Francisco by an undocumented immigrant and repeat felon who had been deported to Mexico five times. "San Francisco police had released him from custody after drug charges were dropped, despite a request from the Department of Homeland Security to deport him."
Some Texas cities are under pressure to adopt similar "sanctuary" policies, and Gov. Greg Abbott has threatened to cut state funds from counties refusing to cooperate with federal immigration policies.
In an analysis of data from Immigrant Legal Resource Center, the New York Times tallied 39 cities and 364 counties across the country that in some way limit how much local law enforcement can cooperate with federal detention requests. It's unclear, however, how much action some of these jurisdictions have taken, other than officially expressing opposition (that may not be legally binding) to what they consider harsh federal or state immigration laws.
And organizations in some municipalities even challenge the label. In 2011, for instance, the Los Angeles Times editorial board denied that Los Angeles was a sanctuary city, even though in 1979 the city had enacted a measure to prevent local police from inquiring about the immigration status of those arrested, one of the first cities in the country to do so.
Why do public officials pass sanctuary laws or establish unwritten "don't ask–don't tell" policies?
There are a variety of reasons .
Some politicians attempt to appease politically powerful illegal immigration support groups such as the National Council of La Raza, Mexican American Legal Defense & Education Fund, and League of United Latin American Citizens that lobby local governments to implement formal or informal sanctuary policies. Other reasons include political contributions and ethnic voter support at election time; complacency, ignorance, or 'don't care' attitudes; and purposeful resistance to existing U.S. immigration law based upon an open-border political philosophy that may serve their economic, political, or ethnocentric interests.

A number of politically appointed big city police chiefs often support an administration's sanctuary policy because they share a similar political ideology or just want to keep their jobs. Supporting sanctuary policies can also be the path of least resistance for city officials too. Public officials can avoid the political protests and threats of expensive lawsuits by organizations like the ACLU that routinely follow any attempts by cities who try to stop illegal aliens from settling in their communities.
So Jeff Sessions will have to deal with several sanctuary city issues as US Attorney General: What defines a sanctuary city? Can a city be a sanctuary city if it hasn't formalized a policy defying federal law? What will be the consequences of ignoring the federal law? If a city only states it has a sanctuary city policy but hasn't enforced it, will it be liable?
From his first day in office, Mr. Sessions will have the power to strip some federal funding from sanctuary cities, thanks to rulings this year by the Justice Department's inspector general, who said federal law requires localities to cooperate with immigration agents — and who provided an initial list of a handful of the worst offenders. Sessions, if confirmed, can also shape policy surrounding deportations:
Though the Department of Homeland Security sets enforcement priorities, the Department of Justice will play an important role in shaping these priorities in the early days of the administration. In addition, though the attorney general cannot order federal immigration judges to make certain findings, he can order Justice Department lawyers to appeal rulings that expand rights for illegal immigrants.

In that vein, Sessions can also push to bolster the ranks of the federal immigration courts, which are currently battling unprecedented backlogs.
Let's wish Jeff Session much success. Stopping sanctuary cities won't be an easy job.