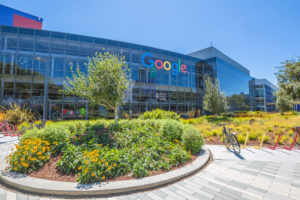 This past election season, Gallup found that Americans' trust in mass media — newspapers, TV, and radio — had fallen to an all-time low. And that much should come as a surprise to no one (except, apparently, to members of the media).
But the electorate as a whole tends to view search engines — Google, Bing, and company — as distinct from the rest of the mass media. In fact, according to recent Google findings, 87 percent of the population turns to online search first when they have a question.
I'd posit that this implicit trust in search engines is due to the illusion of control that you feel when you conduct a web search. You feel like you have agency over which sources you view. You feel like you're getting a balanced picture of reality by reviewing several results on the first page of the search engine results.
But are you in control? Are you getting a balanced view of the questions you search?
It turns out that the top five search results account for over two-thirds of all clicks, with the first three results garnering 55 percent of all clicks. This suggests that whatever Google's algorithm propels to the top of the search results is what the public will perceive as being the most accurate and authoritative.
And that represents a huge vulnerability for a healthy democracy.
In their 2015 study, Robert Epstein and Ronald Robertson concluded that the order of search results can have an outsized influence on voter behavior — and in the event of a close election, the effect of this influence could even be profound enough to determine the entire outcome of the election.
All that was the impetus behind online-search marketer CanIRank's new research into the question of whether there is a detectable political bias in Google search results, which was covered yesterday in The Wall Street Journal. [Full disclosure: I work with CanIRank and participated in the study.]
To conduct the study, CanIRank collected the top 40 search results (i.e., the first four pages of results) for a set of 50 politically relevant search terms such as "gun control," "abortion," "TPP," "ISIS," "Hillary Clinton," "Donald Trump," etc. In the months leading up to the election, these search terms garnered over 20 million monthly searches.
Next, we had a bipartisan panel of scorers rank each of the 2,000 search results on a 1-5 scale, where 1 represents content that demonstrates a heavy bias toward views aligned with the Democrat party or a progressive ideology; 5 represents content that demonstrates a heavy bias toward views aligned with the Republican party or a conservative ideology; and a 3 representing balanced or neutral content.
Some of the more unsettling findings from CanIRank's research:
Web searchers are 41 percent more likely to encounter a page with a Left or Far Left viewpoint in the top Google results, and 66 percent more likely to find left-leaning sites on page 1.

56 percent of page 1 results and 53 percent of overall results demonstrated a political bias.

11 of the 50 search terms analyzed contained no right-leaning results on page 1 of Google's results. Those terms: abortion; minimum wage; nafta; Iraq war; campaign finance reform; global warming; marijuana legalization; tax loopholes; tpp; budget deficit.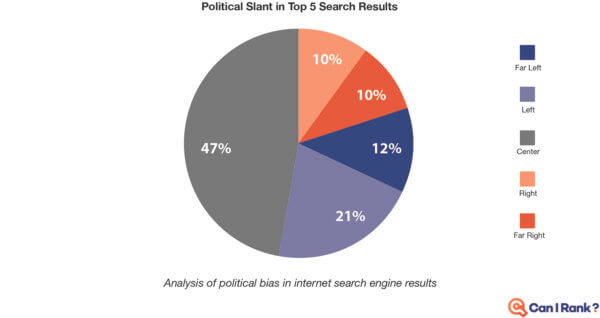 No company in the history of the republic has ever wielded as much influence over how the public perceives important political issues. As CanIRank founder Matt Bentley writes, "This trend is particularly troubling when one considers that the employees of this private company do not reflect the ideological diversity of the country at large, and have consistently been amongst the largest donors to Democratic party candidates."