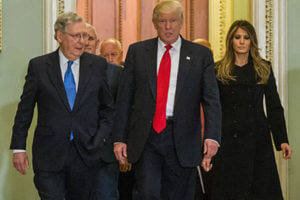 Early last week, Michael Barone published a piece analyzing the election returns in which he focused on the manner in which "the double-negatives" — those who thought highly neither of Donald Trump nor of Hillary Clinton — broke at the very end decisively for the former. Here is the way he put it:
One reason polling may have been misleading, or at least misled many of us in the psephology racket, is that this is the first presidential election since random sample polling began in 1935 in which most voters had negative feelings toward both major party candidates.

Election analysts have had experience dealing with elections in which majorities have positive feelings about both nominees; that has usually been the case in contests which turn out to have been seriously contested. "Double positives," people with positive feelings about both candidates, will usually split along partisan or perhaps ethnic lines, and ordinarily pretty evenly.

But what about "double negatives"? The default assumption most of us have had, I suspect, is that they would split roughly evenly between the candidates. But that didn't happen this year. According to the exit poll (current figures, which may be slightly revised), 18 percent of voters were "double negatives," that is, had negative feelings toward both Clinton and Trump. Of these 18 percent, 49 percent voted for Trump and only 29 percent voted for Clinton, with 22 percent saying they picked another candidate or not answering.

The Trump-Clinton split as a percentage of the entire electorate was 9 to 5 percent, a 4 percent margin. Assume that was the split in each target state, rather than the 7 to 7 percent under my default assumption. If you subtract 2 percent from each close state from Trump's percentage and add it to Clinton's, you have Clinton carrying Arizona, Florida, Michigan, North Carolina, Pennsylvania and Wisconsin, which have 101 electoral votes. That would give Clinton a 329-209 majority in the Electoral College. As Nate Silver pointed out on FiveThirtyEight.com, that's a big difference.
Later in the week, Michael came back to the question of Hillary Clinton's loss and focused on what happened in Pennsylvania, Ohio, and the upper Midwest to the Democratic vote outside the major cities. Here he observed:
Iowa, the largest state with no million-plus metro areas was typical: 54 percent Democratic in 2008, 52 in 2012, 41 percent in 2016. The drop is similar in Wisconsin outside Milwaukee and Madison (54 to 50 to 41 percent), Michigan outside Detroit and Grand Rapids (55 to 52 to 41 percent), Ohio outside Cleveland, Columbus and Cincinnati (48 to 47 to 35 percent), Pennsylvania outside Philadelphia and Pittsburgh (48 to 44 to 36 percent).

Similar outstate drops were not quite enough to carry Minnesota for Trump and were swamped in Illinois by metro Chicago. But they were enough to switch the Midwest electoral vote from 80-38 Democratic in 2012 to 88-30 Republican this year.

These areas aren't growing demographically, but they're not tiny either. They cast 100 percent of votes in Iowa, 61 percent in Wisconsin, 47 percent in Michigan and Pennsylvania, 44 percent in Ohio.
And in trying to explain the shift, he pointed to three concerns: economic stagnation and its impact on the population that shifted, the growing conviction among Midwesterners that Mrs. Clinton was deeply dishonest, and the impact on them of her description of Trump voters. It is the last that especially interests me.
There's also the condescension of Clinton and her campaign headquartered in trendy Brooklyn. "Religious beliefs," candidate Clinton said in 2015, "have to be changed." She told a Manhattan audience that half of Trump supporters were "deplorables" and "irredeemables" characterized by "implicit racism."

Outstate people who voted for Obama, or whose neighbors or friends at church did, probably weren't attracted by such statements. Decent people don't like to be called racists and told that their religion needs to be changed (by the government?).
I would go a bit further than Michael did. I live in a small town in the upper Midwest and I did not think highly of either candidate. For a long time I sat on the fence undecided. I was not worried that Trump was a racist or bigot. I did fear that he was irresponsible, and his remarks regarding foreign policy worried me almost as much as it worried John Yoo and Jeremy Rabkin. What caused me to hold me nose, vote for Trump, and urge others to do so was not "the condescension" exhibited by Mrs. Clinton but the outright hatred she voiced. People who are deplorable and irredeemable need to be crushed. They cannot be allowed to rear their own children, and they must be forced into line. What she had to say was nasty and ugly. That it reflected the views of many of her supporters I never doubted. That she would herself express such views in private and then double-down on them in public later in the campaign — that pushed me over the edge. It was already evident to me that the Democrats intended to neutralize the First Amendment via the courts and impose a regime of censorship on the country. When she spoke these words I knew that she was as radical as the rest. My bet is that these remarks weighed heavily in the decisions made in this part of the country by "the double-negatives."
Naturally enough, given my misgivings about the President-elect, I have been watching carefully as he has begun putting together a cabinet. I entertain two fears. The first is that, like most Republicans, he will — once elected — betray the base and return to the practices of the managerial progressive wing of the party. The second is that he will turn his back on our allies abroad and sidle up to the likes of Vladimir Putin.
So far, I find his choices reassuring. Jeff Sessions is, as Byron York reports today, "the Democrats' nightmare." He can be relied on to enforce the laws as written, to purge what Eric Holder and Loretta Lynch turned into a Department of Obstruction of Justice, and to give us again an impartial, nonpartisan administration of justice — above all, with regard to immigration. In choosing him, Trump has signaled that he means business.
The same is evident in his appointment of Reince Priebus as chief of staff and Steve Bannon as his principal advisor. Priebus is as tough as nails. He saw Scott Walker through the political war in Wisconsin, and he managed to hold the Republican Party together in this election — which was no mean feat. Bannon is the perfect war-time consigliere. He is fearless and clear-headed. The abuse being directed in the mainstream press at Sessions and Bannon is a sign of the significance of these appointments.
I also find the appointments and likely appointments on the foreign policy side reassuring. Mike Pompeo, who will take over the CIA, is no amateur. He graduated first in his class at West Point in 1986, did active duty for some years, took a law degree at Harvard, and has done service on the House Intelligence Committee. He knows the terrain.
Trump's choice for foreign policy advisor, Lt. Gen. Michael Flynn had a stellar career on the intelligence side in the Army and served as director of the Defense Intelligence Agency from 2012 to 2014, when he was pushed out for not being on board with the Obama administration's assessment of the developments likely in Syria. He is one of the few people in the larger national-security world who does not resort to embarrassing euphemisms when describing the relationship between militant Islam and the terrorist threat we now confront. Next to no one is willing to acknowledge in public the fact that Islam is itself a problem and that a religion of holy law is prone to becoming a radical political movement. In a world of liars, Flynn is a breath of fresh air.
Trump has not yet announced his choice for the Department of Defense. Fox News reports, however, that he has settled on Jim Mattis, a retired four-star Marine Corps general who took over CentCom from David Petraeus in 2010 and ran it until 2014, when he, too, was pushed out after giving Barack Obama advice regarding Afghanistan, Syria, and Iran that the President did not want to hear. Mattis is a genuine warrior who is notoriously blunt and to the point. In the Marines he was affectionately dubbed "Mad Dog Mattis," and he has good sense. On one occasion, he said, "The international order… is not self sustaining. It demands tending by an America that leads wisely, standing unapologetically… in defense of our values." On another, he told his Marines: "Be polite, be professional, but have a plan to kill everybody you meet." Let me add that I know Mattis slightly. I spent a couple of days in his company in October at a small conference held at the Hoover Institution. What struck me at the time was that every time he opened his mouth it was clear that he knew what he was talking about. I cannot think of anyone better equipped to be Secretary of Defense, and I cannot imagine an isolationist picking such a man for the job.
Finally, Mike Pence has intimated that Mitt Romney may be chosen Secretary of State. That, too, would be splendid. It would help bind up the wounds of the party, and it would put a real gentleman in charge of Foggy Bottom. Like Mattis, Romney is no isolationist, and his prescience in foreign affairs was on display in the debates that took place in 2012. He was derided at the time for his insistence that Russia is a rival and should be treated as such, and he turned out to be right. His presence in the administration would go a long ways toward reassuring those of us who fear that Donald Trump is a bit too friendly with Vladimir Putin. My only concern is that he might be too decent a man to conduct the purge that is needed in Foggy Bottom. Everyone in the State Department must have known that Hillary Clinton was violating security protocols, and nobody blew the whistle. If Romney is chosen for the top job, someone with the requisite ruthlessness should be put in charge of the foreign service.
When I look at this as a whole, I am tempted to be sanguine about this administration. It looks as if Donald Trump really means drain the swamp and as if he is canny about foreign affairs. All of the right people are upset about his picks, and all of the right people are inordinately pleased. Perhaps, what we saw on the campaign was Trump the entertainer and what we are about to see is Trump the hard-nosed businessman. Let me add that, where Barack Obama tended to surround himself with yes-men and to get rid of anyone who told him truths he did not want to hear, Donald Trump seems to have a taste for straight-shooters. So far, so good.