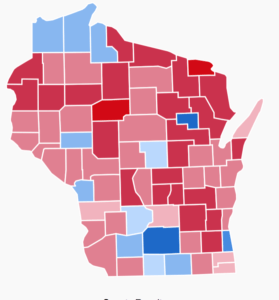 At first glance, it appears that Hillary Clinton lost Wisconsin due to Democrats staying home. The numbers I'm looking at (link to politico) show Trump with essentially identical vote totals to Romney in 2012. By contrast, Obama received about 230,000 more votes in 2012 than Clinton did last week.
However, breaking down the margins by "region" is more revealing. I use scare quotes because this is only a very rough, very high level break out. If I have time, I'll do a deeper, more thorough break out of regions, but for now I think this is worthwhile.
Conservative Region
This region includes three suburban counties surrounding Milwaukee (Waukesha, Washington, Ozaukee). This is where Republicans run up the score in off-year elections, is the region that gave Senator Ted Cruz a victory in the primary. This is also where you're most likely to find pockets of NeverTrump resistance on the Right.
Total Votes Cast (includes both Democrat and Republican totals):
2012: 375,207
2016: 365,883 (-2.5%)
Republican Margin:
Romney 2012: +132,439
Trump 2016: +107,486
Marxist Region
Dane County is where Madison is located. Its residents are state government employees, millennial university students, and 60's burnouts who never stopped protesting.
Total Votes Cast:
2012: 302,854
2016: 304,729 (+0.6%)
Republican Margin
Romney 2012: -131,930
Trump 2016: -146,236
Milwaukee Region
Milwaukee County is separate from the Marxist Region, because the dynamics of a massive black voter base are different from the lily-white Dane County electorate. Obviously, it would be expected for margins to fall off here with no black candidate on the ballot.
Total Votes Cast:
2012: 490,944
2016: 434,970 (-11.4%)
Republican Margin
Romney 2012: -169,660
Trump 2016: -162,895
Rural Region
This is every other county in the state. Obviously, there are cities included in here, but none of them are as predictable and reliable in their vote margins as the previous three regions. Only one (Green Bay, population 105,000) has a population over one hundred thousand. Some pockets lean Democrat, some lean Republican and the region often swings back and forth.
Total Votes Cast:
2012: 1,887,617
2016: 1,839,038 (-2.6%)
Republican Margin
Romney 2012: -36,053
Trump 2016: +228,902
Conclusion
In comparison to 2012, Trump did worse with the conservative base, while Clinton improved with the Marxist base, but lost some votes in Milwaukee (while holding her margin there). Trump cleaned house in the non-ideological, small-city/rural swing portions of the state, though this was despite slightly reduced turn-out in those regions. I do not believe that Ted Cruz could have won Wisconsin, and if he had been the nominee I do not believe that Ron Johnson would have won reelection to the Senate. For the record, I voted for Cruz in the primary.
Bonus Region
Just for fun, I offer up Menominee County, an Indian Reservation. They tend to vote for Democrats in similar proportions to blacks. In 2012, Romney received 13% of the vote (179 total votes). In 2016, Trump received 21% of the vote (269 total votes). So it wasn't entirely a "whitelash."