Yesterday I asked what parts of NAFTA people on Ricochet would want to see renegotiated or abrogated. After reading the responses, I'm still not sure whether people here think that free trade is good, but NAFTA disadvantages the United States — that it's not a level playing field, in other words — or whether we've got real support here for mercantilism.
I'm open to the idea that Adam Smith was wrong and free trade doesn't, in fact, benefit everyone. I've been arguing, though, that it's not trade that's killed manufacturing jobs. It's automation.
What if both are true? Here's an interesting study from Ball State University: The Myth and the Reality of Manufacturing in America. It focuses on the effects of productivity change, domestic demand, and foreign trade on American manufacturing employment.
Although it took a hit during the Great Recession, the trend lines on production are clear: Manufacturing is not in decline in America: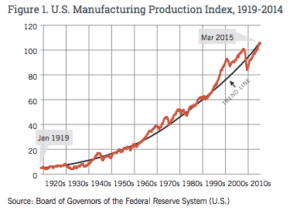 In fact, it's at record highs.
The increased productivity is largely the consequence of the industrial use of information technology:
In 1998, the inflation-adjusted output per worker was much lower than it is today. This is due to a variety of factors, chief among them being the automation and information technology advances absorbed by these sectors over this time period. The higher output per worker has meant firms could lower their price for goods. Very clear examples of this are the price indices for different types of consumer electronics.
We have people here who argue that free trade is beneficial, but our trade agreements aren't fair. We also have people who argue that trade itself has cost jobs, or at least, that it hasn't been obviously beneficial. No matter your stance on that debate, I think you'll agree that the problem of automation's effect on employment will remain: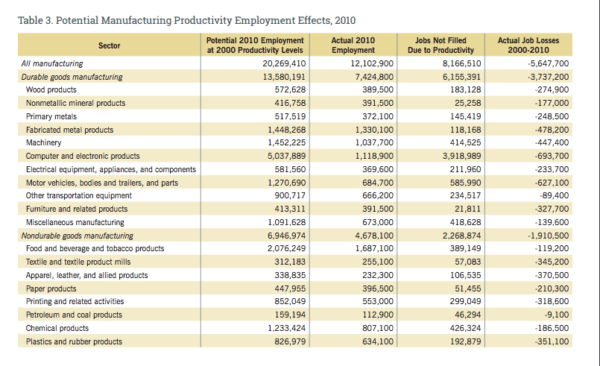 The authors of the study endorse the idea that trade has cost us jobs: "The most scholarly work in this area (Ocemoglu, et. al. 2014) estimates employment losses in the United States due to imports from 1999-2013 in the 2.0 million to 2.4 million range." But they argue that this only accounts for 13.4 percent of lost jobs.
So here's my question: If we're jettisoning free-trade orthodoxy, why not do it in a way that will bring back many jobs, not just 13.4 percent of them, at best? Why not ban the industrial use of information technology? Or at the very least, why not legislate steps that will strengthen rather than weaken unions, given that trade unions probably know better than anyone what's costing them their jobs? Trade unions predicted the circumstances in which we find ourselves, and they seem to have a point about what would happen if the American working class confronted long-term employment precarity.
Here's a 1983 survey of labor unions. Only 14 percent of unions advocated technology change; and most were only willing to accept it if its impact on the workforce could be minimized. This is why economists tend to find an inverse relationship between innovation and unionization.
You may say, "Well, obviously we don't want to suffocate innovation. That would be bad for the economy." But we have an economy that seems only to benefit urban elites. The Rust Belt made it overwhelmingly clear that it wants its jobs back and doesn't want to hear one more word about laissez-faire economic theories. Unless Keynes was right all along, a big burst of spending on infrastructure projects won't in the long term bring back those jobs. (It will be great for patronage and cronyism, however.)
Perhaps innovation — Silicon Valley, in other words — needs to take the hit for a while?