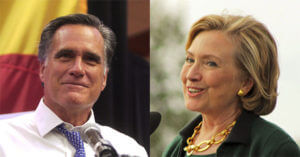 Much talk before the election was given to how much better another candidate (insert generic Republican here) would have been doing against Hillary Clinton. Such a debate is of course unnecessary now since Donald Trump has won (bigly even). But, the question still has cropped up if someone else would have done better than Trump has done. Such a question of course is impossible to really answer in any kind of objective way. Too many counterfactuals and possibilities exist to be able to account for them. Yet, one possible option to test this hypothesis, has occurred to me, and I decided to put it to the test.
The Hypothesis: Mitt Romney is the quintessential generic Republican candidate. If he ran again in 2016 vs. Clinton and received all the same votes he did in 2012 would this allow him to beat Clinton if she received all the votes she got in 2016?
The experimental design is very simple. I went on a state-by-state basis comparing in each state the vote totals between Romney in 2012 and Clinton in 2016. Who ever had the most votes won the state (I didn't factor in the Nebraska and Maine splitting because I was just too lazy to be that detailed). There are numerous problems with this kind of straight-up comparison, the biggest being that it assumes that Romney could not in 2016 get more votes than he got in 2012, that there is no overlap in voters between the two candidates, and that no new voters would turn out to vote for either.
In 2012 Romney got 60,933,504 million votes and in 2016 Clinton got a total of 59,938,290 (at least so far; there are still votes being counted even now). This means that generic Republican Romney wins the popular vote which is better than what Trump has done (Trump is currently trailing Clinton by about 230,000 votes. But, the popular vote means squat. How does this translate into electoral college votes? 
Romney would have won the following states against Hillary: AL, AK, AZ, AR, CO, GA, ID, IN, KS, KY, LA, MS, MO, MT, NE, NC, ND, OH, OK, SC, SD, TN, TX, UT, WA, WI, WY. This would have resulted in 255 electoral votes and a loss. So while generic Romney would have done well in a popular vote battle, he would have failed to win the actual election, because he would have failed to get Florida. The Sunshine State is one of the few in which Clinton outperformed Obama as compared to 2012. Trump outperformed Romney in battleground states like MI, OH, PA and FL. In fact, Trump got 400,000 more votes in Florida than Romney. This is what gave him the victory.
So while there are numerous caveats to this analysis, I would conclude that no generic Republican could have done much better on an electoral vote level than Trump did. This is because the generic Republican would have had to win the same states as Trump, which he did through a massive turnout of blue-collar whites. What the generic Republican of this test offered over Trump is just a more narrow loss in deep blue states with one oddball pick up of Washington state. Perhaps the generic Republican could have achieved the same electoral vote results as Trump but with a different set of voters. There is no way to test this though.